Living A God Pleasing Life
Faith is the Foundation
Dear Parishioners:
October 2020 begins our annual Stewardship Campaign. The theme for this year's campaign is LIVE a GOD- PLEASING LIFE! Stewards living a God-pleasing life are managers of God's creation. Because God is the owner and we are the managers, we are responsible and accountable to God for what we do with all that He entrusts to us. Once we identify our identity and purpose as stewards, we will view our stewardship as active and involved participation rather than as a passive caretaker role. Our understanding of STEWARDSHIP reminds us that all we have is a gift from the Lord and it is our privilege to give back to the Lord the best of what we have. This is summarized in the traditional three T's — TIME, TALENT, and TREASURE (Sacrificial Giving).
Because of COVID-19, we will approach this year's Stewardship Campaign in a different way. We will begin this year's Campaign on the weekend of October 4, 2020 (Kick-Off Weekend) and will conclude on the weekend of October 18, 2020 (Commitment Weekend). All of our traditional stewardship-related activities will be available on our parish webpage at www.stpatricktampa.org or during the weekend Masses.
There are three elements necessary for Stewardship to become a way of life for us. First … FAITH is the FOUNDATION of stewardship. Without faith, it is impossible to please God, because anyone who comes to Him must believe that He exists and that He rewards those who earnestly seek Him (Hebrews 11:6). God has chosen us to be His stewards, and it is through faith that we are able to do the works which we were created to do.
The second element is DISCIPLESHIP. By virtue of our Baptism, we are called to be disciples of Christ. We become disciples by obeying the first command of Jesus that He gave to His disciples … "Follow Me" (Matthew 4:19). A disciple is one called by Jesus to deny himself, take up the cross, and follow Jesus. Discipleship is a path to peace and joy because we are walking with the Lord.
The third element is GENEROSITY. We are called to respond as grateful stewards to the love and generosity of God. St Paul wrote, "You will be made rich in every way so that you can be generous on every occasion and through your generosity will result in thanksgiving to God" (2 Corinthians 9:11). May you rejoice with the gifts God has given you and be willing to share them with your sisters and brothers in our faith community here at St. Patrick.
We ask that you prayerfully consider how you can continue to support your parish by allowing your TIME, TALENT, and TREASURE (Sacrificial giving) to continue helping build up our faith community of St. Patrick. May the Lord always bless you and keep you safe.
Yours in Christ,
Fr. Sal, Fr. Alberto, Ana Jones (Co-Chair), Josephine Maestas (Co-Chair), Tom Earley, Mary Kay Lee, Byron McCants, Sharon Millburg, Sandy Odell, Lydia Oliva, Joanne Pajak, Mary Beth Sabo, Lisa Tamarg, Germán Zegarra
Live a God-Pleasing Life! ~ Faith is the Foundation … Discipleship is the Path … Generosity is the Hallmark
www.parishpublishing.org
Estimados parroquianos:
El mes de octubre de 2020 comenzamos nuestra Campaña Anual de Corresponsabilidad. Este año, el tema de la campaña es ¡VIVIR UNA VIDA DE AGRADO A DIOS! Los corresponsables que viven una vida de agrado a Dios son protectores de la creación de Dios. Debido a que Dios es el dueño y nosotros sus corresponsables, somos responsables y le damos cuenta a Dios por lo que hacemos con todo lo que nos encomienda. Una vez reconozcamos nuestra identidad y propósito como corresponsables, veremos nuestra corresponsabilidad como una participación activa y dedicada en vez de una participación pasiva de custodia. Nuestro entendimiento de corresponsabilidad nos recuerda que todo lo que tenemos es un Don del Señor y es nuestro privilegio a devolverle a Dios lo mejor de lo que tenemos. Esto se resume en lo que se llama las tres "T," es decir, TIEMPO, TALENTO, y TESORO (entrega hecha en sacrificio).
Por la razón del COVID-19, vamos hacer la campaña de corresponsabilidad en una manera diferente. Comenzaremos la campaña este año el fin de semana del 4 de octubre y terminará el fin de semana del 18 de octubre (Fin de Semana de Compromiso). Todas las actividades tradicionales de la campaña de corresponsabilidad, estarán disponibles en la página web parroquial: www.stpatricktampa.org o durante las Misas los fines de semana.
Hay tres elementos necesarios para que la corresponsabilidad se haga una manera de vivir nuestra vida. Primero, FE ES EL FUNDAMENTO de la corresponsabilidad. Sin fe, es imposible a complacer a Dios, porque cualquiera que venga a Dios debe creer que Él existe y que le da la recompensa a los que seriamente lo buscan (Hebréos 11:6). Dios nos ha llamado a ser sus corresponsables, y és por la fe que podemos hacer las obras por cual fuimos creados.
El segundo elemento es el DISCIPULADO. Por nuestro Bautismo somos llamados a ser discípulos de Cristo. Nos hacemos discípulos obedeciendo el primer mandamiento que Jesús le dio a sus discípulos – "Síguenme" (Mateo 4:19). Un discípulo es alguien llamado por Jesús a negarse a si mismo, tomar su cruz, y seguir a Jesús. El discipulado es un camino a la paz y el gozo porque estamos caminando con el Señor.
El tercer elemento es la GENEROSIDAD. Somos llamado a responder como corresponsables agradecidos por el amor y la generosidad de Dios. Escribe San Pablo: "Así tendrán ustedes toda clase de riquezas y podrán dar generosamente, … y será motivo de que por medio de nosostros los hermanos den gracias a Dios" (2 Corintios 9:11). Que ustedes puedan regocijar con los dones que Dios le ha dado y sean dispuestos a compartirlos con sus hermanos y hermanas en la comunidad de fe aquí en St. Patrick.
Pedimos que en oración consideren como puedan seguir apoyando a su parroquia usando su TIEMPO, TALENTO, y TESORO (entrega hecha en sacrificio) para continuar el desarrollo de nuestra comunidad de fe en St. Patrick. Que el Señor los bendiga siempre y los mantenga sanos y salvos.
En Cristo Jesús,
Fr. Sal, Fr. Alberto, Ana Jones (Co-Chair ), Josephine Maestas (Co-Chair), Tom Earley, Mary Kay Lee, Byron McCants, Sharon Millburg, Sandy Odell, Lydia Oliva , Joanne Pajak, Mary Beth Sabo, Lisa Tamargo, Germán Zegarra
¡VIVIR UNA VIDA DE AGRADO A DIOS!
LA FE ES EL FUNDAMENTO … SER DISCÍPULOS ES EL CAMINO … LA GENEROSIDAD ES EL SELLO DE DISTINCIÓN
www.parishpublishing.org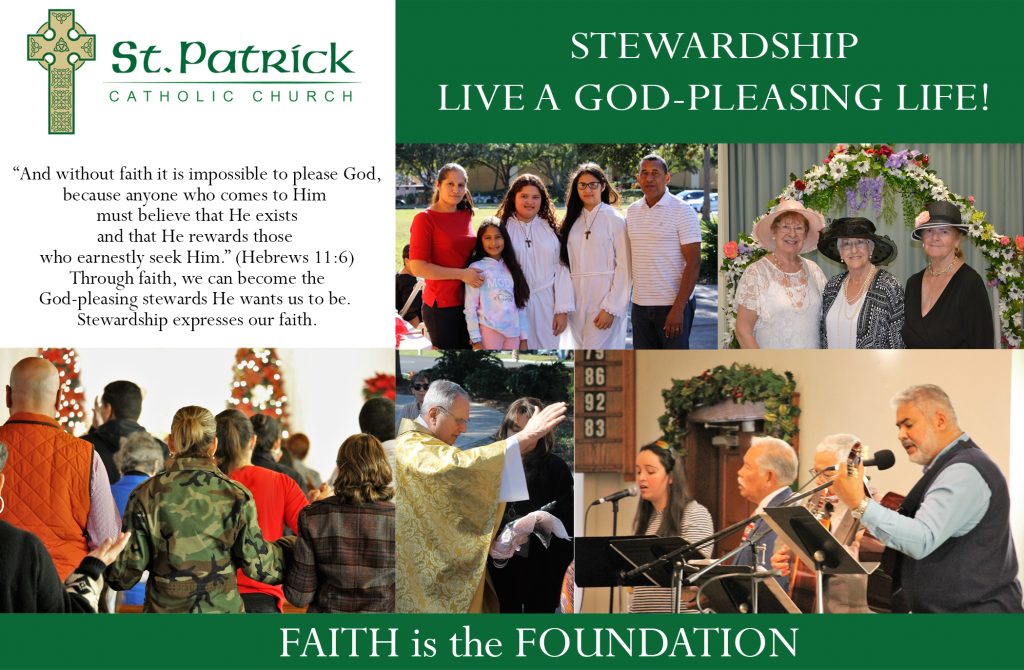 Living A God Pleasing Life
Discipleship is the Path

Living A God Pleasing Life
Generosity is the Hallmark