The Feast of the Ascension of the Lord
Sunday, May 24, 2020⁠
Sunday Mass and Gospel Reflection
Fr. Salvator M. Stefula, T.O.R.⁠
⁠
View Today's Mass Online: https://vimeo.com/421364687 
GIVE Online: https://giving.parishsoft.com/app/giving/stp4520270
⁠
My sisters and brothers in Christ,
May the peace of the Risen Lord be with you and your family. Many of us remember that we used to celebrate this Feast of the Ascension of our Lord into Heaven on Thursday, 40 days after Easter. You will find below my reflection why and when this great feast was moved to Sunday which normally would be the Seventh Sunday of Easter.
As we reflect on the Easter Season and on the three years of Jesus public ministry, we are constantly reminded that He never kept this event of His ascension a secret. At first this must have been a sad moment for the Apostles. The day that Jesus had told them was finally here. He did tell them not to be afraid, He would not abandon them but would send the Spirit, the Paraclete, who would be with them, guide them and give them the strength and courage to proclaim to the people the Kingdom of God. Those 40 days that the Apostles had with Jesus brought about a true transformation for them.
During this period of the pandemic, we can hear the words of Jesus when He said: "I will be with you always." It is good for us to remember this not only during good times but always in those difficult moments of life.
Let us lift up our hearts and prayers to the Holy Spirit for the strength that we need to always live out courageously our call as disciples of Christ, and to be those missionaries that we are called to be by virtue of our Baptism.
The Holy Spirit will send the apostles on their first saving mission reminding them of what to preach and giving them the proper voice to proclaim it. This promise gives them the hope of success and a joyful willingness to begin. This beautiful Feast of the Ascension will also give us the strength that we need to go out and let others know that Jesus has truly risen and is alive.
May the Lord give you His peace!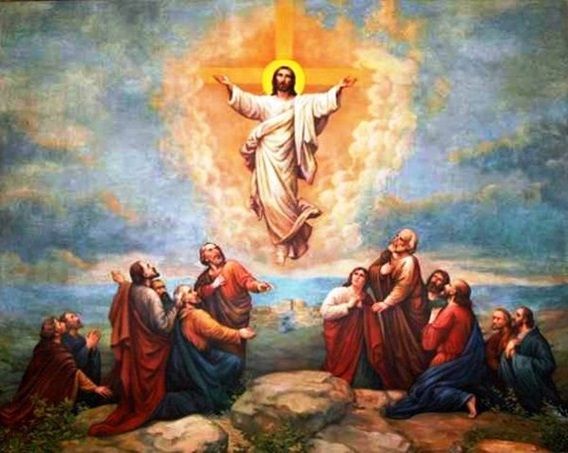 Mis hermanas y hermanos en Cristo
Que la paz del Señor resucitado esté con usted y su familia. Muchos de nosotros recordamos que celebrábamos esta  Fiesta de la Ascensión de nuestro Señor al Cielo el jueves, 40 días después de la Pascua. Encontrarás más adelante en mi reflexión el por qué y cuándo esta gran fiesta se cambió a domingo, el cual sería normalmente el Séptimo Domingo de Pascua.
Al reflexionar sobre la temporada de Pascua y los tres años del ministerio público de Jesús, recordamos constantemente que El nunca mantuvo en secreto este evento de su            ascensión. Al principio, este momento debió haber sido muy triste para los apóstoles. El día que Jesús les había dicho   finalmente estaba aquí. Él les dijo que no temieran, que no los abandonaría, sino que enviaría al Espíritu, el Paráclito, que estaría con ellos, los guiaría y les daría la fuerza y el  valor para proclamar al pueblo el Reino de Dios. Esos 40 días que los Apóstoles estuvieron con Jesús trajo para ellos una verdadera transformación.
Durante este período de la pandemia, podemos escuchar las palabras de Jesús cuando dijo: "Siempre estaré contigo". Es bueno para nosotros recordar esto no solo durante los buenos tiempos, sino siempre en esos momentos difíciles de la vida.
Levantemos nuestros corazones y oraciones al Espíritu Santo para obtener la fuerza que necesitamos para vivir siempre con valentía nuestro llamado como discípulos de Cristo, y para ser los misioneros que estamos llamados a ser en virtud de nuestro bautismo.
El Espíritu Santo enviará a los apóstoles en su primera       misión salvadora recordándoles qué predicar y dándoles la palabra adecuada para proclamarlo. Esta promesa les da la esperanza de éxito y una buena disposición para comenzar. Esta hermosa Fiesta de la Ascensión también nos dará la fuerza que necesitamos para salir y dejar que otros sepan que Jesús realmente ha resucitado y está vivo.
¡Que el Señor te dé su paz!