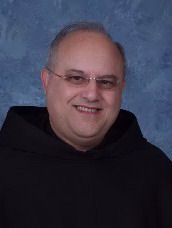 WELCOME FR. ALBERTO BUENO, T.O.R.
Father Alberto has arrived! I know you will welcome him and help him to feel at home as you did for me when I first arrived. As I mentioned before, he and I lived together for three years in the Diocese of Ft. Worth. I am personally happy that we will have the opportunity to live and work together once again. He is a great Friar and Priest. We pray for God's blessings upon him as he prepares for his new ministry with us.
Father Alberto F. Bueno, a Third Order Regular of St. Francis, was born June 11, 1955. A native of Havana, Cuba, he received his high school education at Bishop Ireton High School in Alexandria and earned his bachelor's from George Mason University in Fairfax and his master's from the University of St. Michael's College in Toronto. Father Bueno joined the Franciscan community in 1979, professed his first vows in 1981 and made his solemn profession of vows in 1985. He was ordained to the priesthood in 1986 by the late Bishop James Hogan of the Diocese of Altoona-Johnstown. Prior to priestly ordination, he spent internships at St. Francis Prep School and at Sacred Heart Church in Spring Grove, Pa., and served his deacon internship at Holy Spirit Church in Mitchell, S.D. Following ordination, he served in campus ministry at Franciscan University of Steubenville, Ohio, and in hospital chaplaincy in Fort Worth, Texas. He became parochial vicar of St. Thomas Church, Fort Worth, in 1990, and after further graduate study at Washington Theological Union in Washington, D.C., he served on the faculty of Conwell-Egan Catholic High School in Fairless Hills, Pa. He became assistant pastor of St. Lawrence Church in Tampa, Fla., in 1996 and in 1998 became chaplain of the New College of Florida, Ringling Arts and Design College, and Manatee College, all in Sarasota, Fl. In 2003, Father Bueno returned to the Fort Worth Diocese as pastor of Our Lady of Mercy Church in Hillsboro, Holy Angels Church in Clifton and Our Lady of Guadalupe in Morgan. Since 2008, Father Bueno has been assigned as parochial vicar of St. Joseph Church in Herndon, VA.