Upcoming Lenten Activities at St. Patrick Catholic Church
Lenten Evening Mass – March 4th
Confessions begin at 6:30pm followed by Mass at 7:00pm
Stations of the Cross – March 5th, 12th, 19th, 26th
Fridays of Lent 12:00pm* & 7:00pm (12:00pm Stations will be Live Streamed)
More information below…..
Lenten Fish Fry – March 5th, 12th, 19th, 26th
Fridays of Lent 5:00pm – 7:00pm TAKE OUT ONLY
More information below…..
Holy Hour – Adoration of the Blessed Sacrament – March 11th
Adoration with Benediction from 7:00pm – 8:00pm. Confessions will be available.
Evening Mass in honor of the Feast of St. Patrick – March 17th
Mass at 7:00pm
Lenten Penance – March 20th
Penance at 10:00am. No service this year. Priests will be available for Reconciliation.
Parish Mission – February 22nd, 23rd, 24th
Live Streamed Videos of our Parish Mission available below.
STATIONS OF THE CROSS
FRIDAYS OF LENT
12:00pm* & 7:00pm 
March 5th
March 12th
March 19th – Mary's Way of the Cross
March 26th – Living Stations of the Cross
*12:00pm Stations will be Live Streamed online. Please visit our YouTube Channel to view our Live Stream.
ST. PATRICK'S PARISH MISSION – FEBRUARY 22, 23, and 24, 2021
St. Patrick Catholic Church in Tampa hosted our 2021 Parish Lenten Mission, led by Fr. William Garrott, O.P., on February 22nd, 23rd, and 24th.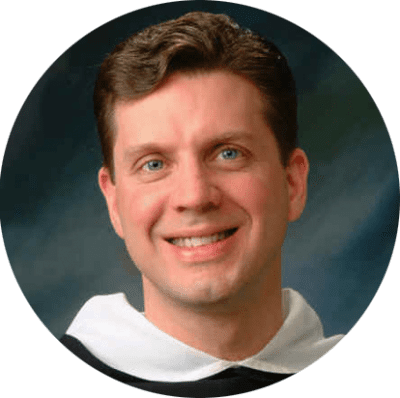 Fr. William Garrott, O.P.
William Garrott was born November 13, 1963, in Hagerstown, Maryland. He is the youngest of eight children and has 24 nieces and nephews. After obtaining a Bachelor of Science in Chemistry and working several years in the field of technology transfer, he entered the Order of Preachers in August of 1988. After six years of spiritual and academic formation, he was ordained to the priesthood in May of 1994. Father Bill Garrott, O.P. spent four years serving as an associate pastor in Ohio where he gained experience with RCIA, adult education, Confirmation retreats, Bible studies, training and leading altar servers, lectors, and Pro-Life Marches.  Father Garrott then obtained a Masters in Theology from the University of Saint Thomas Aquinas (known as the Angelicum) in Rome. Father Garrott also served as the Director of Vocations for the Province of Saint Joseph.
Preaching Missions
Father Garrott uses his musical abilities on piano and guitar to preach parish missions, weekend retreats, days of recollection, and various youth events. He composes his own music and has release his own CD's. He was 17 years old and deeply caught up in the world of rock music when he first experienced the joy of knowing, loving and serving Jesus Christ. Through word and song, Father Garrott desires to draw listeners more deeply into that unconditional love which the Father, the Son, and the Holy Spirit reveal to us through the Catholic Faith.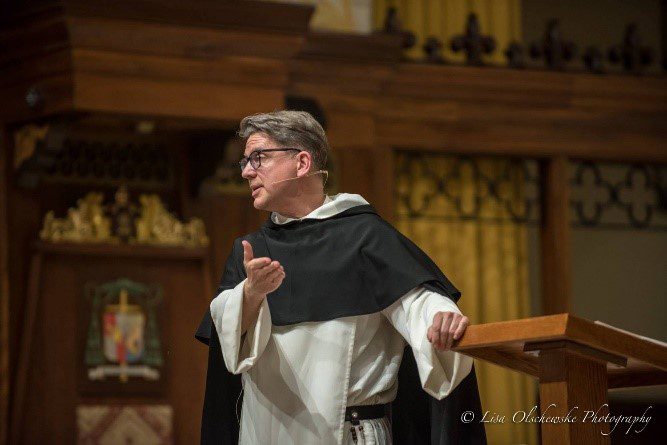 MISSION PRAYER OF RENEWAL
Lord Jesus, You are the Savior of my life!  With my whole heart I desire to live in Your radiant light.  I wish to enjoy forever the fellowship of Your saints.  I firmly reject the dominion of darkness and beg You by the power of Your blood shed on the cross  to forgive my sins and cleanse me from all my guilt.  I promise with Your gracious help to follow You ever more closely, trusting only in Your abundant mercy. Stir up the gifts of the Holy Spirit in my soul  that I may cry out with You, "Abba, Father!" Grant that I may find inspiration and strength through prayer, that I may experience Your abiding presence in the Sacraments, that I may be guided by the truth of Your Word which comes to us in Scripture and Tradition. Help me to forgive and serve others as You have forgiven and served me.  Help me to use the gifts You have given me to build up Your one, holy, catholic and apostolic Church. In all my trials, help me to trust that You will never abandon me. Lord Jesus, when my life on earth is complete, send Your Holy Mother Mary to lead me to the eternal home of our Heavenly Father together with St. Joseph and all the Saints.  I ask all this in Your holy and glorious Name Who live and reign forever and ever. Amen.
IF YOU HAVE BEEN AWAY, WE WELCOME YOU HOME!
St. Patrick welcomes you home when you are ready to return. We miss you and continue to pray for you all. We, your faith community, would like to extend an invitation to you. We welcome you to come join us for Mass this Lenten season. We continue to provide a clean and sanitized environment here at St. Patrick for you to feel comfortable returning to Mass in your Parish Home.
GOD BLESS YOU