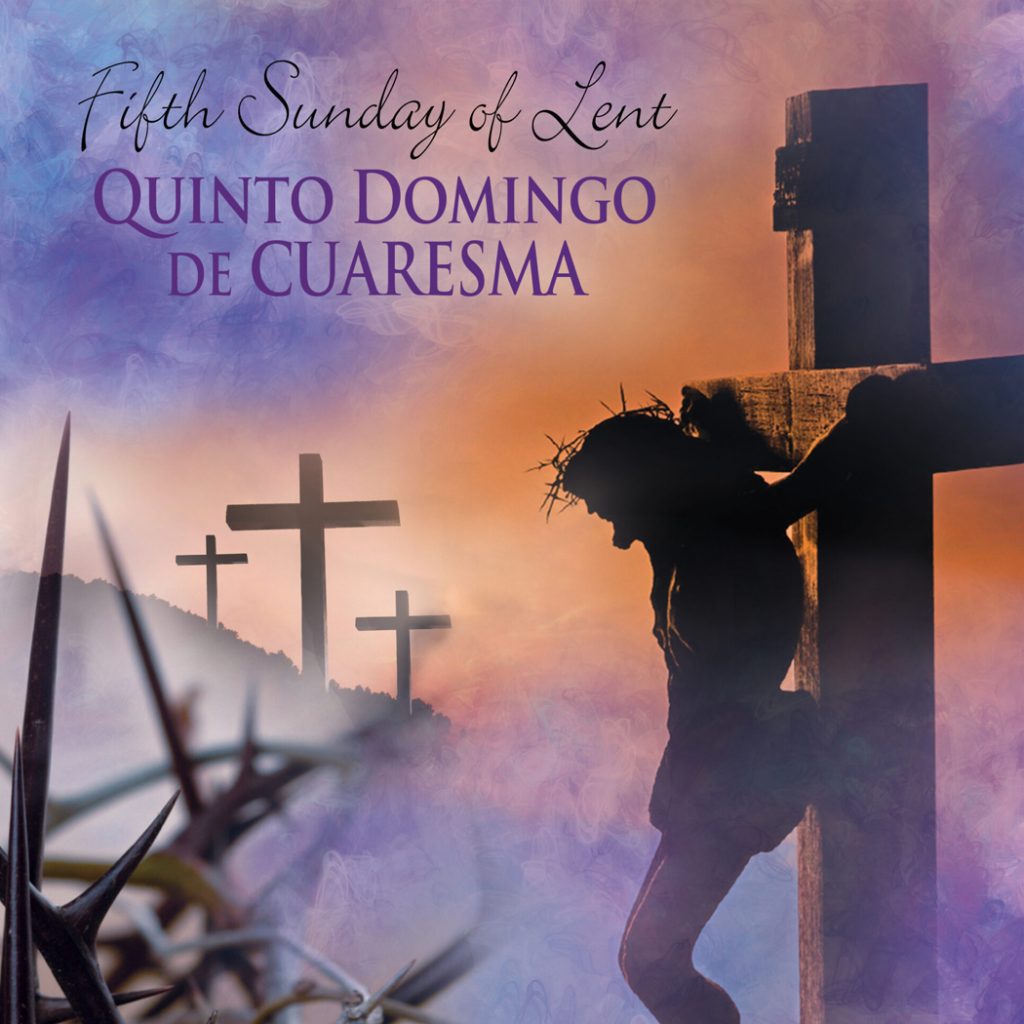 Fifth Sunday of Lent
Sunday, March 21, 2021
Fr. Alberto Bueno, T.O.R.
My dear Brothers and Sisters,
This Fifth Sunday of Lent brings us into the very threshold of the Passion of our Lord. The events of our Gospel take place after the raising of Lazarus and Jesus' triumphant entry into Jerusalem (Palm Sunday) and before the Passion of Jesus. Some Greek believers in God have come to share in the Passover celebration. They witnessed Jesus' entry into Jerusalem and want to meet Jesus personally. Philip and Andrew inform Jesus and He responds with, "The hour has come for the Son of Man to be glorified…" The Lord's response to the believing Greeks is the Paschal Mystery itself; Jesus' passion, death, and resurrection. "Unless a grain of wheat falls to the ground and dies…," we know this truth. If one truly wants to know Jesus, we come to know him, as he truly is, only after the Resurrection. We are being invited today to enter into the Paschal Mystery as we will soon enter into Holy Week. To make Holy Week, especially the Paschal Triduum, an encounter with our saving Lord, Jesus Christ.
Quinto Domingo de Cuaresma
Mis queridos hermanos y hermanas,
Este Quinto Domingo de Cuaresma nos lleva al mero umbral de la Pasión de nuestro Señor. Los eventos del evangelio tienen lugar después de la resurrección de Lázaro y la entrada triunfal de Jesús a Jerusalén, y   antes de la Pasión del Señor. Unos griegos, creyentes en el Dios de Israel, se encuentran en Jerusalén para la Pascua. Experimentaron la entrada de Jesús a Jerusalén y quieren conocerle personalmente. Felipe y Andrés informan a Jesús y Él responde, "Ha llegado la hora de que el Hijo del hombre sea glorificado…" La respuesta del Señor a los griegos creyentes es el mero Misterio Pascual; la pasión, muerte, y resurrección de Jesús. "Si el grano de trigo, sembrado en la tierra, no muere…," nosotros conocemos esta verdad. Si uno de veras quiere conocer a Jesús, lo conocemos, tal como és, solamente después de la Resurrección. Hemos sido invitados a profundizar en nosotros el Misterio pascual otra vez más en la Semana Santa. Para hacer de la Semana Santa, especialmente el Triduo Pascual, un verdadero encuentro con nuestro Salvador, Jesucristo.