Fourth Sunday of Easter
Sunday, April 25, 2021
Reflection by: Fr. Alberto Bueno, T.O.R.
My dear sisters and brothers,
The Fourth Sunday of Easter is known as "Good Shepherd Sunday." This is because the Gospel used on this Sunday always has a reference to Jesus as our good shepherd, and today's gospel is no exception.
Throughout the history of Israel there were always shepherds. The herding of sheep was central, for centuries, to the economy of the kingdom of Israel. However, to clarify, the purpose of raising and cultivating sheep was for their wool production. Relatively few of the sheep went to food production or as sacrificial offerings to God. This is important for the image of shepherd that we see in the Gospels. This is the reason a good shepherd knew the sheep of his flock and they knew him. The shepherd was with them from their birth until the death of each member of the flock. He knew them by name. And they recognized his voice. Jesus tells us he is the Good Shepherd! He knows the sheep and they know Him. He lays down His life for them and defends them. They know His voice and follow after Him. He even says that He has sheep from other folds, who recognize His voice and follow Him. How beautiful is our Good Shepherd! He calls us by name so that we can follow his footsteps, He defends and protects us. He searches us out when we are lost and tenderly holds us next to His heart. May you always hear the voice of our Shepherd; may His voice always lead you to God's green pastures, and may you ever be close to His loving and merciful heart. Amen!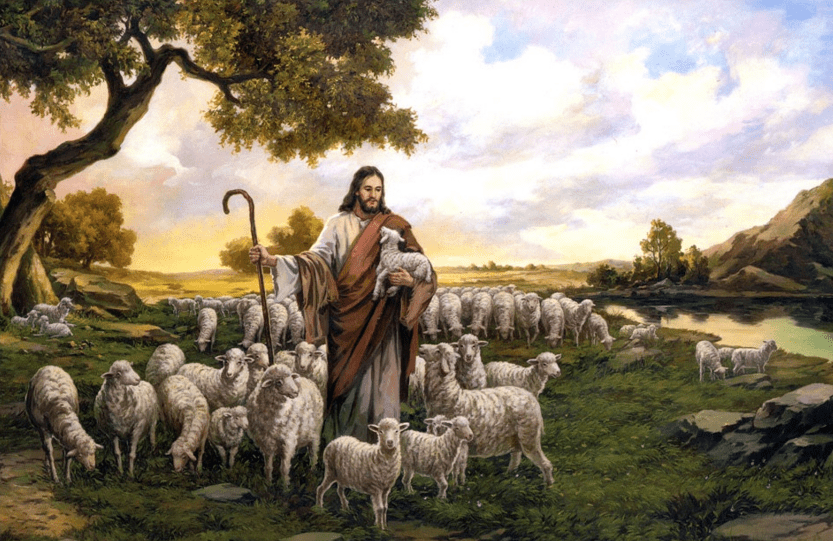 Cuarto Domingo de Pascua
Mis queridos hermanas y hermanos,
El Cuarto Domingo de Pascua es conocido cómo el "Domingo del Buen Pastor." La razón és porque el evangelio de este domingo siempre trae una referencia a Jesús como nuestro buen pastor.
Por toda la historia de Israel siempre han existido los pastores. El pastoreo de obejas era central, por siglos, en la economía del reino de Israel. El propósito del cultivo y crianza de obejas era por su lana. Muy pocas de las obejas eran dedicadas a la producción de su carne o como sacrifios a Dios. Esto es importante para entender la imagen del pastor que vemos en los evangelios. Esta es la razón que un buen pastor conocía las obejas de su redil y ellas conocían a su pastor. El pastor estaba con sus obejas desde que nacían hasta la muerte de cada obeja del redil. Él las conocía por nombre. Y ellas reconocían su voz. Jesús nos dice que ¡Él es el Buen Pastor! Él conoce a sus obejas y ellas lo conocen a Él. Él da su vida por ellas y las defiende. Ellas conocen su voz y lo siguen. Incluso, nos dice que tiene obejas de otros rediles, que reconocen su voz y lo siguen. ¡Qué bello es nuestro Buen Pastor! Nos llama por nombre para que podamos seguir sus huellas, nos defiende y nos protege. Nos busca cuando estamos perdidos y tiernamente nos mantiene cerca de su Corazón. Que cada uno de ustedes siempre escuchen la voz de nuestro Pastor; que su voz los guie a las praderas verdes de Dios, y que siempre estén cerca de su misericordioso y amoroso Corazón. ¡Amén!