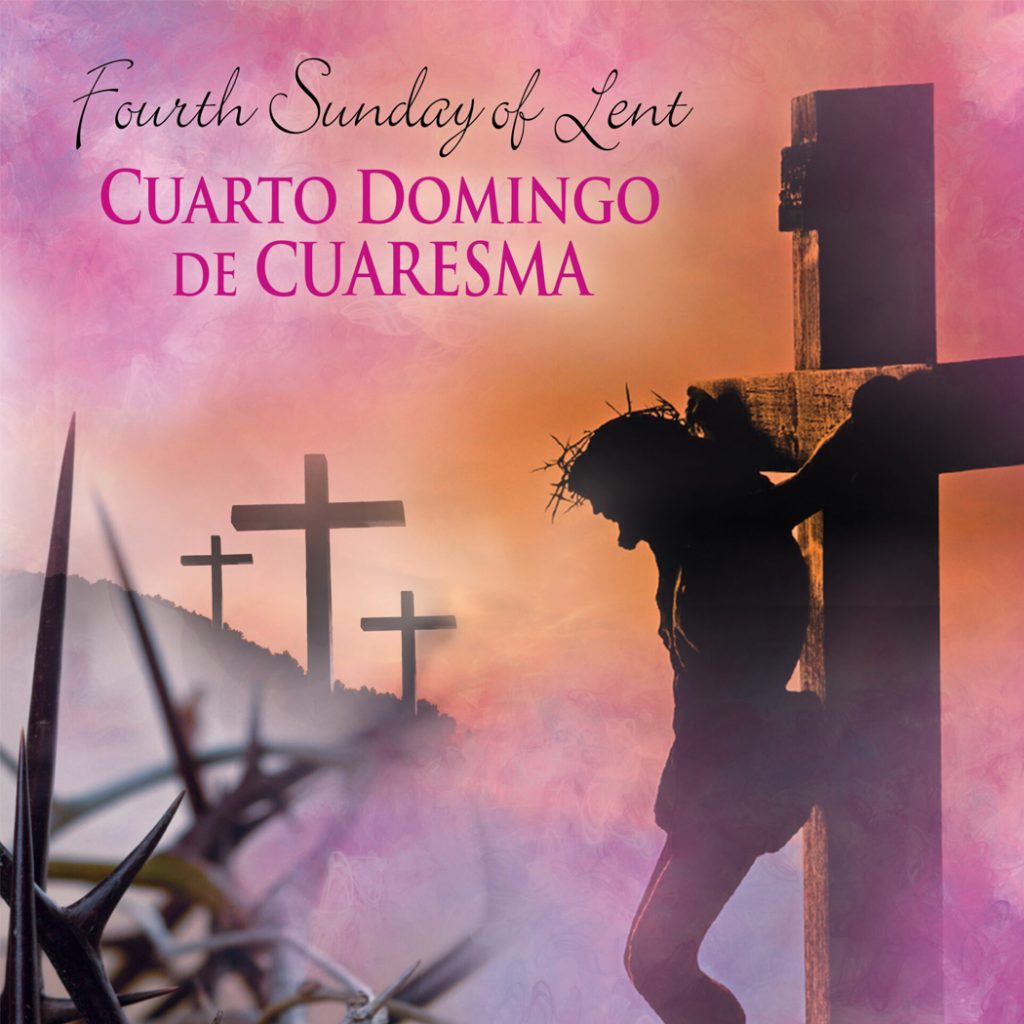 Fourth Sunday of Lent
Sunday, March 14, 2021
Reflection by: Fr. Salvator Stefula, T.O.R.
My sisters and brothers in Christ,
May the peace of the Lord be with you and your families during the Lenten Season. We are beginning the fourth week of Lent. How are you doing so far?  Has Lent helped you to reflect on the three elements of Lent: PRAYER, FASTING and ALMSGIVING (Caring for our sisters & brothers in need)? If we have not had a good start, don't give up, we can refocus and put more attention to what the Lord may be asking of us in the remaining weeks of Lent. We continue to pray for the grace of internal conversion.
Our readings today are about how God delivers His chosen People. Even though they had a long lists of infidelities, God never walked away from them. God stayed loyal, keeping His part of the covenant. A covenant is an intimate relationship that God had with His people and that He has with us. The author of the first reading tells us that this covenant was broken more often than it was observed. Instead of giving up on us, God offered us a new covenant, sealed in the blood of His Son. It's a covenant we renew and God renews with us every time we come to Mass.
I am very happy to see that more are returning to Mass during this Pandemic. We need the grace of Eucharist to sustain us during this challenging time. May the Lord Jesus continue to strengthen us as He reminds us-"do not be afraid, I am with you always." May the Lord give you His peace.
Mis hermanas y hermanos en Cristo,
Que la paz del Señor este con ustedes y sus familiares durante la temporada de Cuaresma. Estamos comenzando la cuarta semana de Cuaresma. ¿Cómo les ha ido hasta ahora? Te ha ayudado la Cuaresma a reflexionar en los tres elementos de la Cuaresma: ¿REZAR, AYUNAR Y DAR LIMOSNA (atender a nuestras hermanas y hermanos necesitados)? Si no hemos tenido un buen comienzo, no nos demos por vencidos, podemos volver a centrarnos y poner más atención en lo que el Señor nos puede pedir en las semanas que quedan de Cuaresma. Seguimos rezando por la gracia de la conversión interna.
Nuestras lecturas de hoy tratan de cómo Dios libera a su pueblo elegido. Aunque tenían una larga lista de infidelidades, Dios nunca se alejó de ellos. Dios se mantuvo leal, cumpliendo su parte del pacto. Una alianza es una relación íntima que Dios tenía con su pueblo y que tiene con nosotros. El autor de la primera lectura nos dice que esta alianza se rompió más veces de las que se cumplió. En lugar de renunciar a nosotros, Dios nos ofreció una nueva alianza, sellada con la sangre de su Hijo. Es una alianza que renovamos y que Dios renueva con nosotros cada vez que venimos a misa.
Yo estoy muy contento de ver que hay más personas que vuelven a la misa durante esta pandemia. Necesitamos la gracia de la Eucaristía para sostenernos durante este tiempo difícil. Que el Señor Jesús continúe fortaleciéndonos al recordarnos, "no tengamos miedo, Yo estoy contigo siempre." Que el Señor te de su paz.