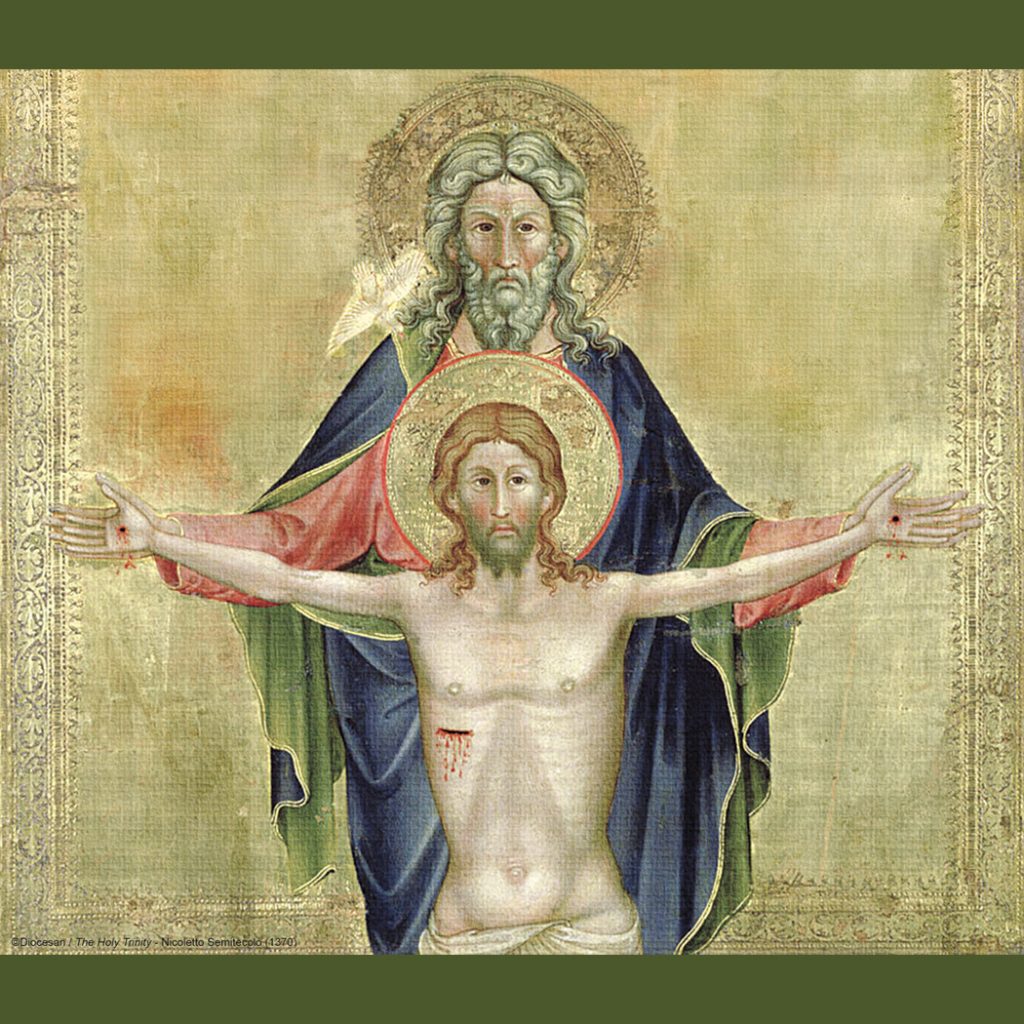 Solemnity of the Most Holy Holy Trinity
Sunday, May 30, 2021
Reflection by: Fr. Salvator Stefula, T.O.R.
Today we celebrate the Feast of the Most Holy Trinity. We believe that there is only one God but there are three persons in one God—God the Father, God the Son and God the Holy Spirit. There are two natures in God, the DIVINE NATURE and the HUMAN NATURE. The DIVINE NATURE is found in the Father, Son and Holy Spirit. The HUMAN NATURE is found in Jesus Christ, the second person of the Blessed Trinity. This is one of the mysteries of our faith. It is impossible to understand but we believe.
How many times do we make the Sign of the Cross? How many times do we say the Glory be to the Father and the Son and the Holy Spirit etc.? We acknowledge the Holy Trinity many times in our daily lives.
In today's first reading we hear Moses declare that there is no other God than the Lord and that only by being faithful to their God will they prosper.
May the Lord bless us as we celebrate today the presence of God …who is Father, Son and Holy Spirit.
Hoy celebramos la fiesta de la Santísima Trinidad. Nosotros creemos que Dios es uno pero que hay tres personas en un solo Dios – Dios Padre, Dios Hijo, y Dios Espíritu Santo. Hay dos naturalezas en Dios, la NATURALEZA DIVINA y la NATURALEZA      HUMANA. La NATURALEZA DIVINA se encuentra en el Padre, Hijo, y Espíritu Santo. La NATURALEZA HUMANA se encuentra en Jesucristo, la segunda persona de la Santísima Trinidad. Esto es uno de los misterios de nuestra fe. Es imposible para entender, pero creemos.
¿Cuántas veces hacemos la señal de la cruz? ¿Cuántas veces rezamos Gloria al Padre, al Hijo, y el Espíritu Santo, etc.? Reconocemos la Santísima Trinidad muchas veces en nuestra vida diaria.
En la primera lectura de hoy, escuchamos a Moisés declarar que no hay otro Dios menos que el Señor y que solamente siéndole fiel a Él se puede prosperar.
Que el Señor nos bendiga al celebrar hoy en la presencia de Dios … quien es Padre, Hijo, y Espíritu Santo.