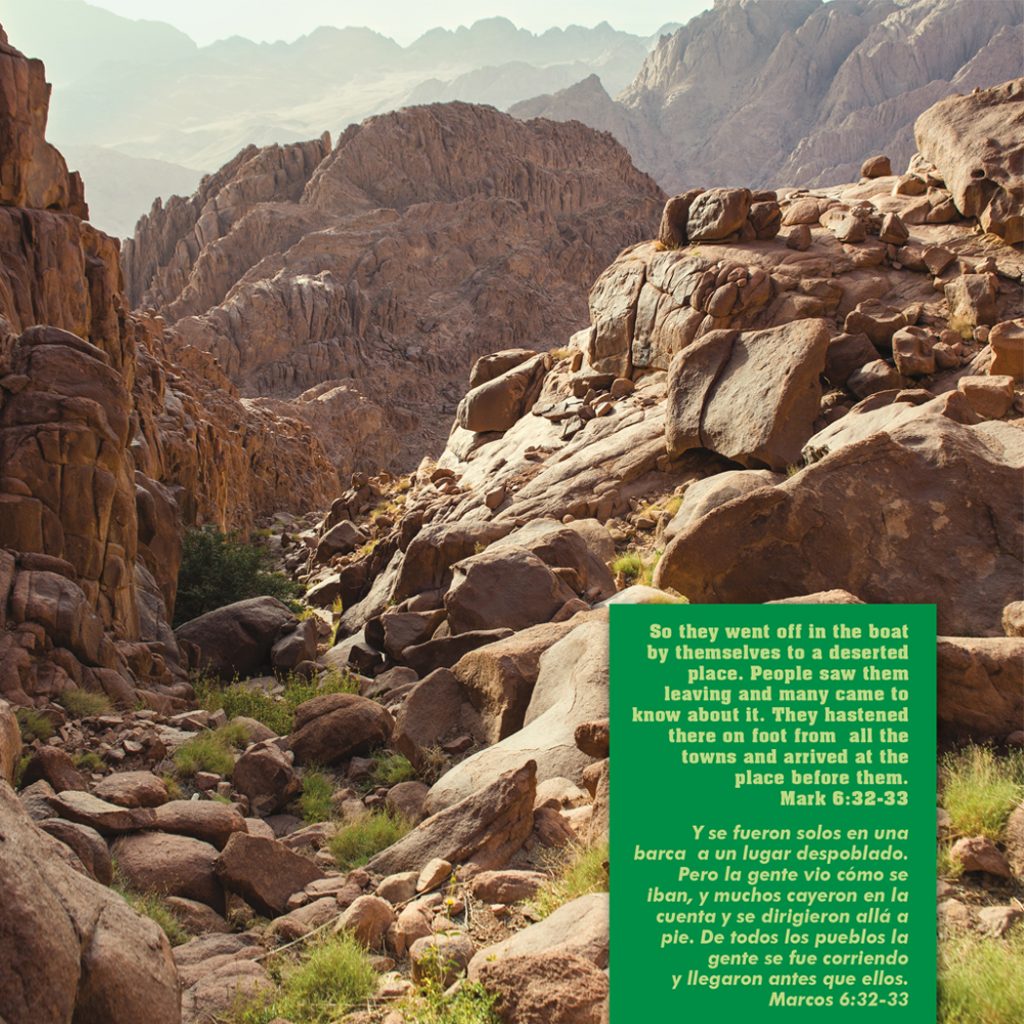 Sixteenth Sunday in Ordinary Time
Sunday, July 18, 2021
Reflection by: Fr. Alberto Bueno, T.O.R.
My dear Sisters and Brothers,
Our readings today present us with the image of shepherd. The Prophet Jeremiah challenges the leaders of God's people because they have failed to tend the flock given to them. Yet, we hear, God will provide a Good Shepherd, one who will care and tend to them. We see the fulfilment of this word in the person of our Lord Jesus Christ.
In our Gospel, we see Jesus tending to the needs of His apostles. They have returned from the mission that the Lord had given them. They are tired so Jesus invites them to go with Him to a deserted place to rest, relax, and reflect with Him. However, reality finds them in that the crowds follow them to that deserted place because they want Jesus to help them. Jesus caught sight of the people who had followed them. Rather than becoming annoyed that they were interrupting his precious time with his disciples, his heart is moved with pity by their need and he cares for them. Right then, these people needed to know God's loving care. He would find time later to be alone with his disciples and listen to them.
There is a lesson here for us. The call to be Jesus' compassion to someone in need often asks us to attend to that person's need first, then attend to our own. We are not asked to deny our own need; we are asked to attend to another's first. May we care for others without forgetting to care for ourselves as well. May God bless you all!
Decimosexto Domingo del Tiempo Ordinario
Mis queridos Hermanas y Hermanos, Las lecturas que escuchamos hoy nos presentan la imagen del pastor.   El Profeta Jeremías tiene palabras fuertes para los jefes del Pueblo de Dios porque han fallado en su cargo de atender el rebaño por cual ellos eran responsables. A la vez escuchamos que Dios proveerá un Buen Pastor, que cuidará y atendrá al rebaño. Esta promesa se cumple en la persona de nuestro Señor   Jesucristo.
En el Evangelio, vemos a Jesús cuidando a los apóstoles. Ellos acaban de regresar de la misión que Él les había dado. Están cansados y Jesús los invita que lo acompañen a un lugar aislado para descansar, y reflexionar con Él. Pero la muchedumbre se da cuenta y los sigue a ese lugar. Jesús ve a la gente que los había seguido. Pero en vez de enojarse por la interrupción del tiempo con sus discípulos, su corazón tiene compasión con ellos y los atiende. En ese momento, esa gente necesitaba experimentar el cuidado amoroso de Dios. Habrá tiempo más tarde para estar a solas con los discípulos para escucharles.
Aquí hay una lección para nosotros. La llamada a ser la compasión de Jesús a un necesitado a veces requiere que atendamos sus necesidades primero, y después atender las nuestras. No se nos pide que neguemos nuestra necesidad; se nos pide que atendemos a la del otro primero. Que podamos cuidar a los demás sin   olvidar de cuidarnos también. ¡Que Dios los bendiga!