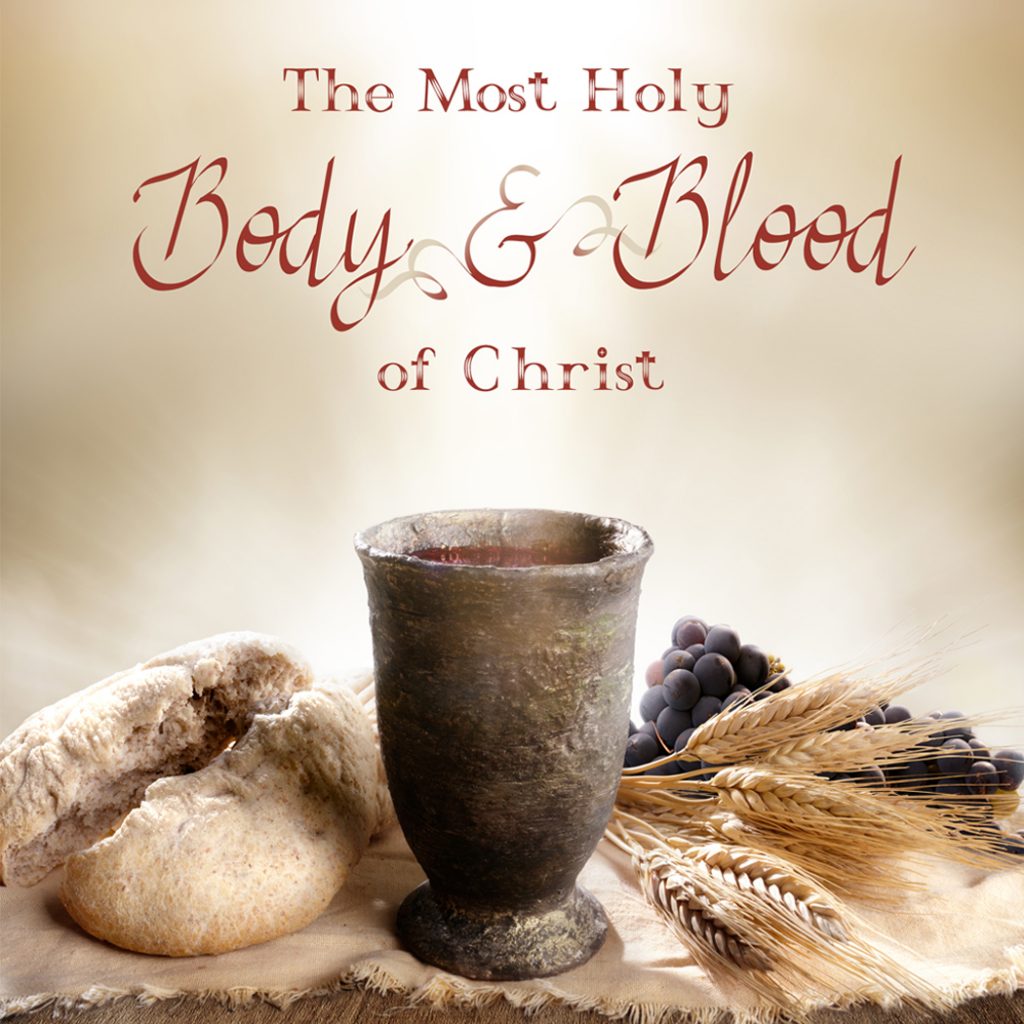 The Solemnity of the Most Holy Body and Blood of Christ
Sunday, June 6, 2021
Reflection by: Fr. Alberto Bueno, T.O.R.
This is the great solemnity of the Most Holy Eucharist! The scriptures remind us that Christ is the Lamb of the new covenant, the sacrificial offering through which we are made partakers of the life of Christ Jesus Himself. The Blood of Christ marks us as the blood of the Passover lamb marked the doors of the Hebrews in Egypt. Through it, we pass to a new life, the life of the kingdom of God. Our Lord comes before the Father by way of His own Blood, the blood of the new covenant that sanctifies us forever. It is through the Body and Blood of Christ that we are part of the household of God.
However, it is not enough to contemplate, admire, and adore; the Eucharist must be received, taken in to ourselves. It grafts us in the people of God, the Body of Christ. It nourishes and strengthens us on the way to the fullness of the Kingdom. As the Sequence beautifully says to the Lord, "You refresh us, you defend us, your eternal goodness send us in the land of life to see."
Praised be Jesus Christ!
La Solemnidad del Santísimo Cuerpo y Sangre de Cristo
¡Esta es la gran solemnidad de la Santísima Eucaristía! Las sagradas escrituras nos recuerdan que Cristo es el Cordero pascual, de la nueva alianza, el sacrificio por cual compartimos la vida de Cristo Jesús. La Sangre de Cristo nos marca igual que la sangre del cordero pascual marcó las puertas de los hebreos en Egipto. Por ella, pasamos a una nueva vida, la vida del reino de Dios. Nuestro Señor va al Padre con su propia Sangre, la sangre de la nueva alianza que nos santifica por siempre. Es por el Cuerpo y la Sangre de Cristo que formamos parte de la familia de Dios.
Pero no es suficiente contemplar, admirar, y adorar; la Eucaristía se debe recibir, tomada dentro de nosotros. Nos injerta en el pueblo de Dios, el Cuerpo de Cristo. Nos nutre y fortalece en el camino hacia el cumplimiento del Reino. Como la Secuencia bellamente le dice al Señor, "Apaciéntanos y cuídanos y condúcenos al cielo."
¡Alabado sea Jesucristo!