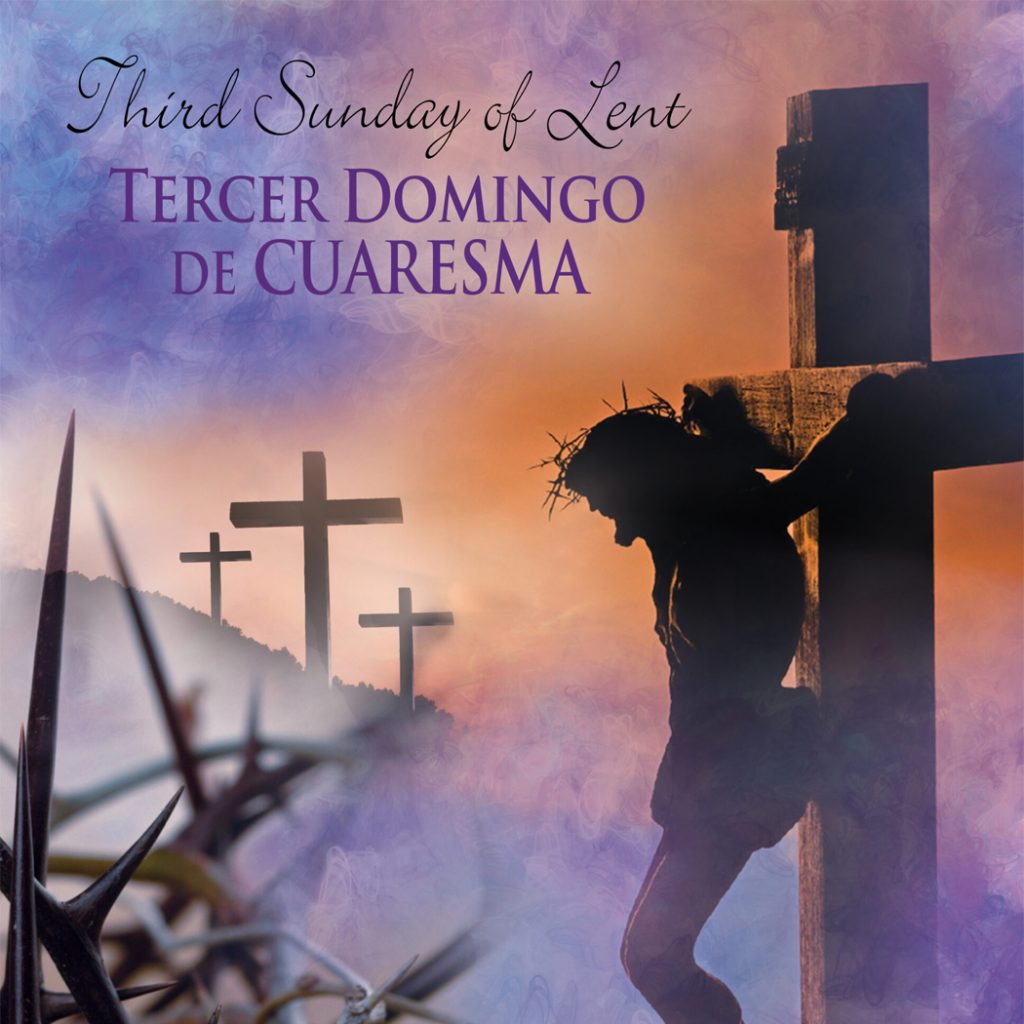 Third Sunday of Lent
Sunday, March 7, 2021
Reflection by: Fr. Alberto Bueno, T.O.R.
My dear Sisters and Brothers, this Sunday presents us with John's account of Jesus driving the merchants and money changers from the Temple precinct, shortly before the Passover celebration. John puts this event at the beginning of his Gospel in chapter two. Much has been written on this episode in the life of our Lord. One aspect is that here, Jesus is performing a prophetic action. In casting out the merchants and money changers, His actions mirror His central message that the Kingdom of God is at hand. There will be a new temple and a new Jerusalem. The new Jerusalem will be the Father's House, that is God's Kingdom. The new Temple is the Temple of the body of Jesus Himself. This is the temple, not made by hands, which will be raised on the third day. It is the risen Christ Himself! As our Lenten journey continues we are brought ever closer to the Paschal Mystery itself. Deeper and deeper we are brought by the Scriptures proclaimed at Mass, which will culminate with the proclamation of the Passion, first on Palm Sunday and then on Good Friday. May our journey of Lent bring all of you to a deeper experience of the mystery of our salvation. Amen.
Tercer Domingo de Cuaresma
Mis queridos hermanos y hermanas, este domingo nos presenta el recuento de Jesús expulsando a los vendedores y los cambistas del Templo poco antes de la Pascua, según el evangelio de san Juan. Juan sitúa este evento al principio de su evangelio, en el segundo capítulo. Mucho se ha escrito sobre este episodio en la vida de nuestro Señor. Un aspecto es que Jesús hace un acto profético. Al expulsar los vendedores y los cambistas, su acción refleja su mensaje central que el Reino de Dios está cerca. Habrá un nuevo templo y una nueva Jerusalén. La nueva Jerusalén será la casa del Padre, es decir el Reino de Dios. El Nuevo Templo es el Templo del cuerpo de Cristo mismo. Este és el Templo, no hecho por manos, que será elevado al tercer día. ¡Es verdaderamente Cristo resucitado! Siguiendo nuestra jornada cuaresmal, nos va llevando más y más cerca al Misterio Pascual propio. Las       sagradas escrituras proclamada en la Misa nos van guiando por este camino, que culminará con la proclamación de la Pasión, primero en el Domingo de Ramos y despues el Viernes Santo. Que nuestra jornada de cuaresma los guie a todos a una experiencia más profunda del misterio de nuestra salvación. ¡Amén!