Welcome Families! 
2018-2019 Faith Formation Registration Form 
Please fill-out, download and email the form directly to Deacon Ben Hooks.  You may also print out and drop off the form or mail it to St. Patrick's Catholic Church Parish Office, 4518 South Manhattan Ave.Tampa, FL 33611. The Parish Office is open Monday through Friday 9am-4pm.

---
About our Children & Families Faith Formation Program
Looking for Sunday school or CCD classes or Religious Education? You have found them!
We are a family-friendly, multi-generational, faith formation program known as Children and Families Faith Formation. At St. Patrick, we teach children about the Catholic faith in a unique format that involves all generations. Our faith formation program includes about 25 classroom lessons and several special events held during the school year.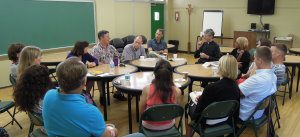 Essentially all of the classroom lessons and events are designed for the child and parent. Families with children with special needs appreciate our unique format and small class sizes. Sometimes we have classes and activities
where the family works together. Often we separate and the children go to a classroom with a catechist while the adults go to a different room for a unique program, Coffee with the Clergy, where adults are offered their own formation opportunities. At the end of class, the children reunite with parents and present a Show and Tell of what they have learned that day. We average three meetings a month beginning in mid-September and ending before the end of May. More information is available on our Children and Families Faith Formation webpage or our parish calendar.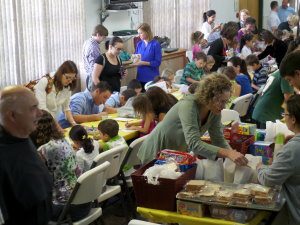 Inter-Generational Events
Several sessions of our faith formation program are inter-generational, where parents & children participate together in special service events to benefit the homeless, the ill, the homebound, or those whose needs cry for help.  These events let learning extend into the hands of the children and parents so that the idea of helping others becomes a present reality. We need volunteers for set-up, food, decorations, and craft/activity tables at our inter-generational events and to distribute the food or gifts to the homeless, homebound, and nursing home patients. This is a whole community learning experience where all ages take part. 
Three Areas Where You Can Help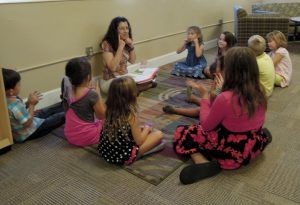 Catechists and Catechist Aides are called by God to openly share their faith in the classroom with the children.  Their first purpose is not to merely inform the students, but to feed them spiritually, to shape them as loving persons, and to form them into true disciples of our Lord.  This is not your average job description! 
Administrative Assistants make the program run smoothly, helping with inventory, ordering books and supplies, registering students, entering attendance, making copies, opening and closing classrooms, preparing for events, posting bulletin and website notices, offering joyful welcomes, etc.
Supporting Parents prepare healthy snacks for the children in the classrooms. In every classroom, when the child arrives, there will be a table set with drinks, snacks, napkins, a candle, and Bible so that the class begins with sharing and thanking God for His goodness.
Safe Environment Program
St. Patrick Catholic Church supports the Diocese of Saint Petersburg Safe Environment Program. Anyone entrusted with the care, responsibility, and/or supervision of children and youth is   required to complete a background check based on electronic fingerprinting and successfully complete a three-hour Safe Environment Program (SEP) training course performed by the Diocese of St. Petersburg.
Each year, the parents and children in our faith formation classes from K through 12th grade will be offered information on creating a safe environment for themselves and their families. The information taught will be age-appropriate. Parents will have an opportunity to review the teaching materials beforehand and choose for their families/children to participate or decline participation.
---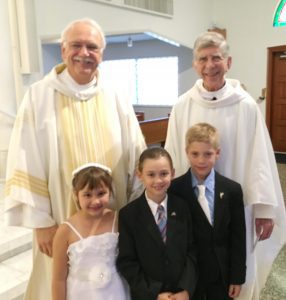 Sacrament Preparation
First Reconciliation & First Holy Communion
During the preparation for Sacraments, the parents and children often study together. The sacramental programs for both First Reconciliation and First Holy Communion are six to eight weeks long with a family   retreat at the beginning and end of the program.  The retreats are special times of closeness and spiritual development for both child and parent.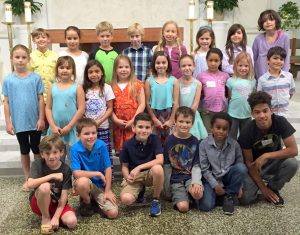 Confirmation
Confirmation completes the three-step process of initiation into the Church.  Candidates ordinarily participate in the sacrament in the 8th Grade.  Older candidates are welcome.  Readiness for the Sacrament includes 2 full years of family-provided or Parish Faith Formation received through the Edge or LifeTeen programs. The immediate preparation will begin with an interview and involve eight sessions plus a service project and retreat. Involvement by parents is essential for the opening sessions and the retreat.
CHRISTIAN FAMILY STUDIES
Sometimes, for any number of reasons, one, two, or even all the children in a family may not have received their sacraments at the same time as their peers. We welcome those parents and families who decide to bring their children to the church to participate in the sacraments given to us by Jesus Christ. We gather the families together and address each of the needs presented. Through a flexible program, we assist in preparing the family for any or all of the Sacraments of Initiation: Baptism, First Holy Communion, and Confirmation. Last year, we had eight families with 22 children who completed their Sacraments through this program.
---
2018-2019 Faith Formation Registration Form 
2018 – 2019 Faith Formation Schedule (Coming Soon)
New Parishioner Registration Form 2018
Additional Dependent Form 2018 (if needed – to accompany the form above)
Please click the link/s above and turn the form/s in by one of the following options;
Drop off the form or mail it to St. Patrick's Catholic Church Parish Office, 4518 South Manhattan Ave.Tampa, FL 33611. 

The Parish Office is open Monday through Friday 9am-4pm.

Email the form directly to Deacon Ben Hooks
---
Please click the links below to learn more about other various Sacramental Preparation Programs and Youth Faith Formation Ministries
THE SACRAMENT OF FIRST COMMUNION
RITE OF CHRISTIAN INITIATION OF ADULTS – RCIA
---
QUESTIONS? PLEASE CALL US!
St. Patrick Catholic Church Parish Office, 813-839-5337
Deacon Ben Hooks, Faith Formation, 813-839-5337 Ext. 206, bhooks@stpatricktampa.org
Carlos Flores, Middle School Youth Ministry, 813-892-5473, middleschoolministry@stpatricktampa.org
Monica Erickson, High School Youth Ministry, 813-839-5337 Ext. 304,  merickson@stpatricktampa.org
Dr. Joseph Brown, RCIA, Parish Office: 813-839-5337, rcia@stpatricktampa.org