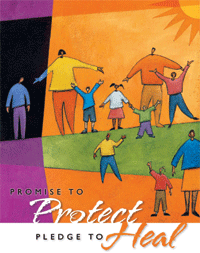 St. Patrick Catholic Church supports the Diocese of St. Petersburg Safe Environment Program
St Patrick Catholic Church and the Diocese of St. Petersburg must ensure that children and youth who worship, study, or participate in activities sponsored by the Parish and the Diocese can do so in the safest and most secure setting possible. Parents and caretakers must have confidence in Parish and  the Diocese before they will allow their children to become involved in Parish activities. The Safe Environment Programs of the Diocese of St. Petersburg are designed to instill that confidence and are encouraged by insurance and risk management companies as well.
This same concern applies to our vulnerable adults. A vulnerable adult is an individual who is 18 years or older whose ability to perform the normal activities of daily living are extremely limited or whose ability to provide for his or her own care or protection is impaired due to a mental, emotional, physical, developmental disability dysfunction, brain damage, or the infirmities of aging.
In accordance with the US Conference of Catholic Bishop's (USCCB) Charter for the Protection of Children and Young People and the Florida Conference of Catholic Bishops, the Diocese has established safe environment programs under the Diocese of St. Petersburg Policy for the Protection of Children and Vulnerable Adults. The Diocese cooperates with parents, civil authorities, educators, and community organizations in its effort to provide education and training for children, youth, parents, ministers, educators, and others about ways to make and maintain a safe environment for children and vulnerable adults.
All Clergy, Staff and anyone entrusted with the care, responsibility, and or supervision of children, youth, or vulnerable adults or who wants unsupervised access to these vulnerable populations must successfully complete a Level 2 FBI/Florida Department of Law Enforcement background check performed by the Diocese of St. Petersburg based on electronic fingerprinting. In addition, one must successfully complete an online Safe Environment Program (SEP) training course.
---
Ministry Volunteer Resource Center
We are happy to have you join our Parish Ministry Family. Welcome!
On behalf of St. Patrick Catholic Church, I want to thank you for your interest in giving your time and talent to serve as a volunteer for our parish. As a volunteer, you will need to fill out a Diocese of St. Petersburg volunteer application for St. Patrick Catholic Church in Tampa, FL.
If you are volunteering for a ministry, which specifically works with children, youth, and/or vulnerable adults, there are special requirements, which we must follow. Both the Diocese of St. Petersburg and our Parish take very seriously the importance of protecting all those who are most vulnerable. Before a volunteer can be allowed to serve children, youth, and/or vulnerable adults, an application form must be completed, and compliance with background screening and completion of the online safe environment coarse is required.
Please do not hesitate to contact Anne Marie Kearney with any questions or concerns you may have, at 813-839-5337, ext. 135. Thank you for your time and attention to this important matter.
Important Resource Links
Required for Parish Ministry Volunteers working with Children, Youth and Vulnerable Adults and Parish Employees
ELECTRONIC FINGERPRINTING/BACKGROUND SCREENING
ONLINE S.E.P. TRAINING CERTIFICATION/RE-CERTIFICATION
Other Resources
VOLUNTEER APPLICATION (For Non-SEP Ministry Volunteers) Required for ALL Parish Ministry Volunteers