Church Hours:
Monday – Friday 8:00 AM – 12:00 PM
Daily Mass:
Monday – Friday 8:30 AM
Adoration of the Blessed Sacrament:
Adoration: Tuesday after daily Mass – 12:00 PM
Benediction: 12:00 PM
Confessions:
Saturday 2:30 PM – 3:30 PM  in the Sacristy.
On Saturday the church will be open from 2:00 PM until after the evening Mass.
Saturday Vigil Mass:
4:00 PM
Sunday Masses:  
8:00 AM, 10:00 AM, 12:00 PM
There will be no Sunday evening Masses at this time. All Masses will be in English. If you are not ready to return to Mass at this time, please note that Catholics in the Diocese of St. Petersburg remain dispensed from the obligation to attend Sunday Mass until further notice.
Fr. Sal will continue to offer Communion for those in our parish who have not yet been able to receive Communion. This is an opportunity for those who have not yet felt comfortable returning to Mass in the church. Fr. Sal will be available on all Sundays of the month of September from 1:15 pm – 1:45 pm (September 6, 13th, 20th, 27th). He would ask that you please attend/watch Mass from home via TV or online prior to coming to receive Communion.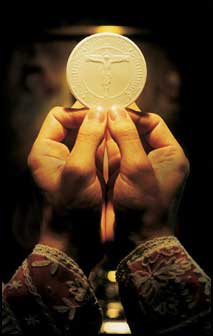 UP-COMING CHANGES
This has been a difficult time for everyone and I am most grateful to you for your willingness to be flexible and to keep going forward. There has been an increase in the week-end Mass attendance and this is very promising. I am most grateful to everyone for your financial assistance during these challenging times. May the Lord continue to bless you for your sacrificial giving – Stewardship in action.
I would like to gradually start coming back to a regular Mass schedule while still following the CDC Guidelines.
Effective October 4th (First Sunday in October) this will be the Mass schedule:
Saturday: 2:30 PM – 3:30 PM Confessions, 4:00 PM Mass
Sunday: 8:00 AM, 10:00 AM, 11:30 AM, and 1:00 PM (Spanish) Masses
PLEASE NOTE:
The 12 Noon Mass will be at 11:30 AM
The Spanish Mass will resume at 1:00 PM
We will wait a little longer before starting the Sunday night Mass at 5 PM and not 6 PM. There are some issues that need to be worked out before we start the Sunday night Mass.
THINGS YOU SHOULD KNOW
 BEFORE ENTERING THE CHURCH:
HAND SANITIZER: Please use the hand sanitizer as you enter and leave the church or if you can, bring your own.
MASKS: Face coverings (masks) are highly recommended.
SOCIAL DISTANCING: Please follow the designated areas to sit so as to maintain social distancing. The church capacity will be limited. Overflow seating will be provided in the social hall.
COMMUNION: Follow the white lines for social distancing and form a single line for Communion down the center aisle. When receiving Communion, (partially remove your mask), receive Communion in the hand, step to the side, place the Eucharist in your mouth and then return to your seat. Priests & E.M's are  to wear masks in distributing Communion to the faithful.
OFFERTORY COLLECTION: The collection will not be taken up in the usual fashion. We will have a large basket marked and it will be placed in an area that will be convenient to place your offering inside.
RESTROOMS: In using the restrooms, exit through the Blessed Sacrament doors to the social hall.
AFTER MASS: If at all possible, we ask that you leave the church by using the two (2) side doors  in the front of the church. The pews will be sanitized immediately after each Mass. Please do not congregate outside in large groups.
FACILITY SANITIZING: Our maintenance staff will be sanitizing the church, social hall, and restrooms daily and before and after each Mass.