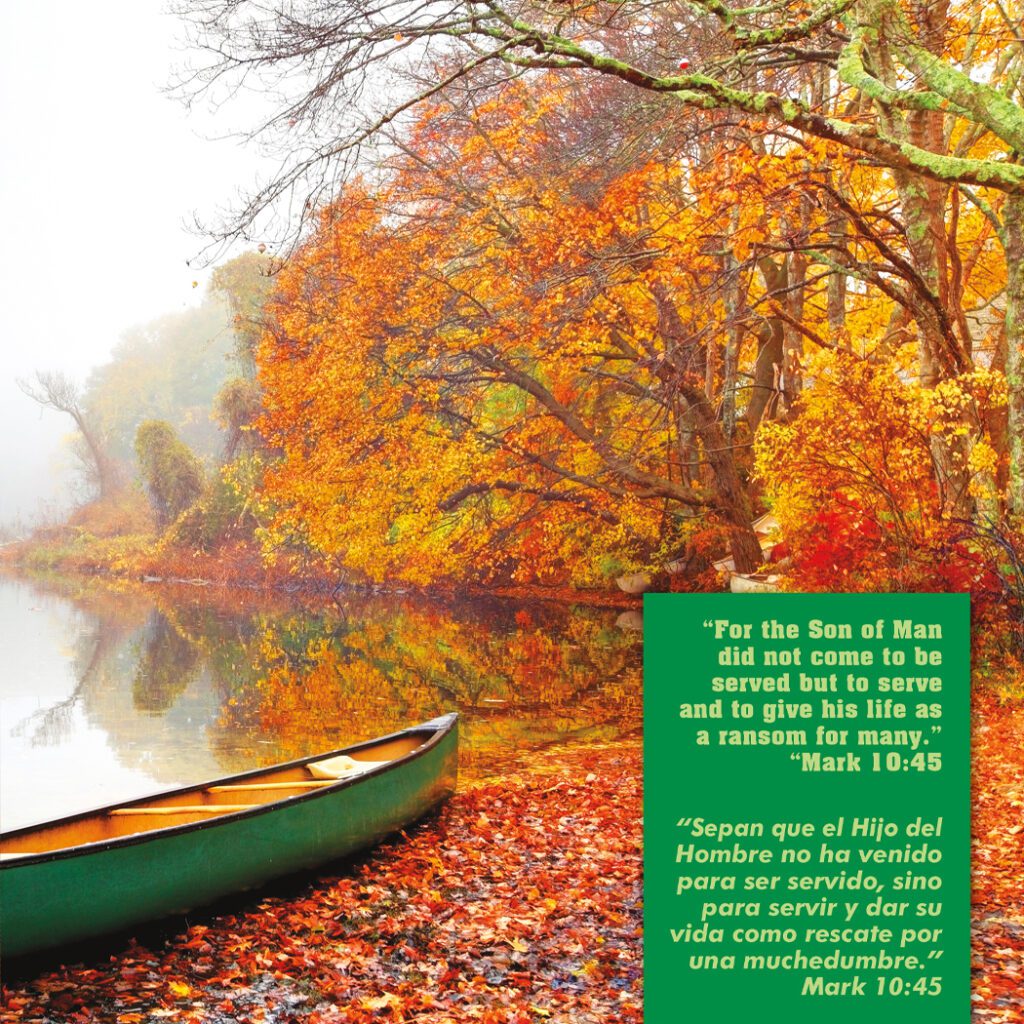 Twenty-Ninth Sunday in Ordinary Time⁠
Sunday, October 17, 2021⁠
Reflection by: Fr. Alberto Bueno, T.O.R.⁠
⁠
Twenty-Ninth Sunday in Ordinary Time
My dear Brothers and Sisters, today's readings contrast celebrity with service. Our first reading, from the fourth "Song of the Suffering Servant" in the Prophet Isaiah centers us in the reality of the offering of Jesus for our salvation, Christ's Passion, death, and Resurrection. Our Gospel passage, from Mark's tenth chapter, presents us with James and John, the sons of Zebedee, asking Jesus for places of honor in the coming kingdom. Having come after the third time that Jesus has announced that He is to suffer rejection, suffering and death, followed by the Resurrection, they clearly have not yet understood the reality of what they are asking. The other ten apostles are no different; they become indignant because they, too, do not understand. None of them grasp that the "throne" that Jesus is taking up is the Cross! They still see the Messiah as a political/military leader. All they see is the glory and fame. Moreover, aren't we, at times no different than they are? Don't we want to be seen as special because we are practicing Catholics and be looked up to? This is the same temptation the serpent presented to Adam and Eve, "you shall be more than you are, you shall be as gods." The Lord has given us an example. He is the great high priest who offers Himself, on the Cross, for our sins, to reconcile us to the Father. He took to Himself our humanity and all our suffering and sorrow. (Hebrews 4:14-16) As disciples, we are called to offer ourselves in the service and care of our brothers and sisters, as the Lord did. As Saint Francis told his followers, "the Lord has shown me what was mine to do, may He show you what is yours to do." Amen.
Vigesimonoveno Domingo del Tiempo Ordinario
Mis queridos hermanos y hermanas, las lecturas de hoy hacen contraste entre la celebridad y el servicio. Nuestra primera lectura, del cuarto "canto del servidor sufriente" del profeta Isaías nos centra en la realidad del ofrecimiento de Jesús por nuestra salvación, la Pasión, muerte y resurrección de Cristo. El pasaje del evangelio, del décimo capítulo de san Marcos nos muestra a los hermanos Santiago y Juan, hijos de Zebedeo, pidiéndole a Jesús lugares de honor en su reino. Este encuentro tiene lugar después de la tercera vez que Jesucristo había anunciado su Pasión, muerte y resurrección. Obviamente, no habían entendido la realidad de lo que estaban pidiendo. Los otros apóstoles no eran diferentes; se ponen indignos precisamente porque ellos igualmente no entendían. Ninguno se da cuenta que ¡el trono de Jesús es la cruz! Ven al Mesías como un líder político-militar. Lo único que ven es la gloria y la fama. A la vez, ¿no actuamos igual que ellos? ¿A veces queremos ser reconocidos como alguien especial porque somos religiosos y católicos practicantes? Esta es la misma tentación insinuada por la serpiente a Adán y Eva, el "ser" algo distinto de lo que ya son, algo más de lo que ya han recibido como don de Dios. El Señor nos ha dado un ejemplo. Él es el sumo sacerdote que se ofrece a sí mismo, en la Cruz, por nuestros pecados, a reconciliarnos al Padre. Tomó sobre sí mismo nuestra humanidad y todo nuestro sufrimiento y tristeza. (hebreos 4:14-16) Como discípulos, somos llamado a ofrecernos en el servicio y cuidado de nuestros hermanos y hermanas, como lo hizo el Señor. En las palabras de san Francisco, "El Señor me ha demostrado lo que tengo que hacer, que Él les muestre a ustedes lo que tienen que hacer. Amén.