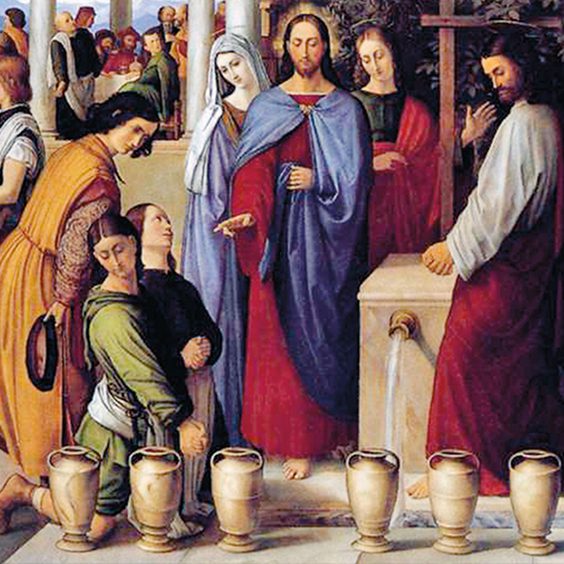 Second Sunday in Ordinary Time
Sunday, January 16, 2022
Reflection by: Fr. Alberto Bueno, T.O.R.
We are now in Ordinary time. The "ordinary" here comes from the word "ordinal" which means "order" in the sense of the days outside of the major liturgical seasons. The color worn during ordinary time is green, a color that signifies hope, as well as the color that designates life and living things.
Our Gospel today is from the second chapter of the Gospel of Saint John, the wedding feast at Cana. In the Church's liturgical history, the wedding feast of Cana is closely associated with the baptism of the Lord and the adoration of the infant Jesus by the Magi. The events that we celebrated the last two Sundays. In this context, the sign Jesus performs at the wedding feast is celebrated as an epiphany or a manifestation of Jesus' divinity. Though we have left the season of Christmas behind, we are reminded that it is never far from our hearts and our lives. The eternal Word of God has taken our human reality as His own to share our lives and to share God's divine life with us. God loves us and wants to be in relationship with us, as Isaiah tells us in our first reading, using spousal images to tell us that God wants to be as close to us as a husband and wife are to each other. Jesus entered our world to make this real! This is our hope and our faith rooted in God's love for each one of us. May this period of Ordinary Time be a season of hope and renewal for you and all your loved ones!
Segundo Domingo del Tiempo ordinario
Hoy comenzamos el tiempo Ordinario. La palabra "ordinario" aquí viene de la palabra "ordinal" que significa "orden" en el sentido de los días fuera de las temporadas litúrgicas importantes. El color que se usa en tiempo ordinario es el verde, un color que representa la esperanza, igualmente es el color que significa la vida y los seres vivientes.
El evangelio de hoy es del segundo capítulo de san Juan, las bodas de Caná. En la historia litúrgica de la Iglesia, las bodas de Caná están relacionada con el bautismo del Señor y la adoración del niño Jesús por los Reyes Magos. Eventos que celebramos los últimos dos domingos. En este contexto, la señal que hace Jesús en la boda es celebrada como una epifanía o manifestación de la divinidad de Jesús. Aunque hemos dejado atrás la temporada de Navidad, se nos recuerda que nunca está lejos de nuestros corazones y nuestras vidas. El Verbo eterno de Dios ha asumido nuestra realidad humana como suya para compartir nuestra vida y compartir con nosotros la vida divina de Dios. Dios nos ama y quiere estar en relación con nosotros, como proclama el profeta Isaías en la primera lectura, usando imágenes esponsales para decirnos que Dios quiere estar tan cerca de nosotros como un esposo con su esposa. ¡Jesús entró en nuestro mundo para hacer esto una realidad! Esta es nuestra esperanza y nuestra fe radicada en el amor de Dios para cada uno de nosotros. ¡Que esta temporada del Tiempo Ordinario sea una temporada de esperanza y renovación para usted y todos sus seres queridos!