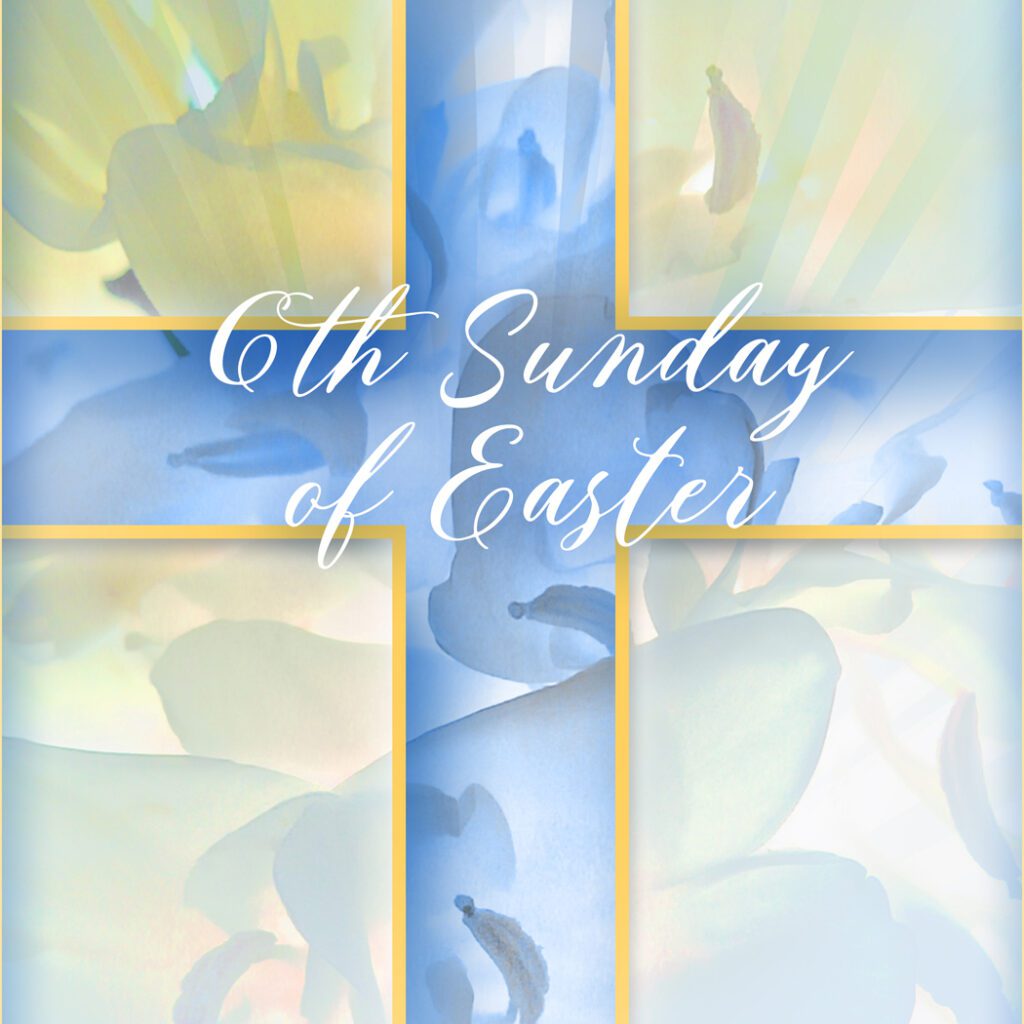 Sixth Sunday of Easter
Sunday, May 22, 2022
Reflection by: Fr. Alberto Bueno, T.O.R.
My Sisters and Brothers, we continue, in today's Gospel, with Jesus' Last Supper discourse. Today the Lord is doing two things. First, He is telling us that we are not alone. If we love Jesus, then the Father, and Jesus, will remain with us in love. As always that love is manifested in living out the teachings of Christ. Further, Jesus tells us that the Father will send the Holy Spirit, the Paraclete (from parakletos in Greek meaning advocate), to remind us of all that Jesus has taught and to continue to guide and teach us as disciples of the Lord. We see an example of this in our first reading from the Acts of the Apostles where the leaders of the Church, the Apostles, gathered in council, clearly state that the guidance and teaching that they are sending to the Church has been decided by them in union with the Holy Spirit.
Secondly, Jesus imparts His peace to the Apostles gathered with Him at table. "Peace I leave with you; my peace I give to you." (John 14:27a) Further, he stipulates, "Not as the world gives do I give it to you." (John 14:27b) The peace of Christ is meant to permeate every aspect of our lives. However, Jesus tells us that even without immediate peace in all areas of our lives, we can still let go of our anxiety. The Holy Spirit brings peace, and the Holy Spirit is with us. May the Peace of Christ be with you this day and all the days of your life!
Sexto Domingo de Pascua
Mis hermanas y hermanos, continuamos, en el evangelio de hoy, con el discurso de Jesús en la Última Cena. Hoy el Señor hace dos cosas. Primero, nos dice que no estamos solos. Si amamos a Jesús, entonces el Padre, y Jesús, habitarán en nosotros en el amor. Como siempre este amor se manifiesta en viviendo las enseñanzas de Cristo. Aun más, Jesús nos dice que el Padre mandará al Espíritu Santo, el Paráclito (de parakletos en griego, que significa abogado), para recordarnos todo lo que Jesús enseñó y continuamente guiándonos y enseñándonos como discípulos del Señor. Vemos un ejemplo de esto en nuestra primera lectura de los Hechos de los Apóstoles donde los jefes de la Iglesia, los Apóstoles, reunidos en concilio, claramente declaran que la dirección y enseñanza que están mandando a la Iglesia ha sido decidida por ellos en unión con el Espíritu Santo.
Segundo, Jesús imparta su paz a los Apóstoles reunidos con Él en la mesa. "La paz les dejo, mi paz les doy." (Juan 14: 27a) Adelante, afirma, "No se la doy como la da el mundo." (Juan 14: 27b) La paz de Cristo debe penetrar todos los aspectos de nuestra vida. Sin embargo, Jesús nos dice que, aunque no tengamos paz en todas áreas de nuestra vida, podemos desprendernos de nuestra ansiedad. El Espíritu Santo trae la paz, y el Espíritu Santo está con nosotros. ¡Qué la paz de Cristo esté con ustedes hoy y todos los días de su vida!