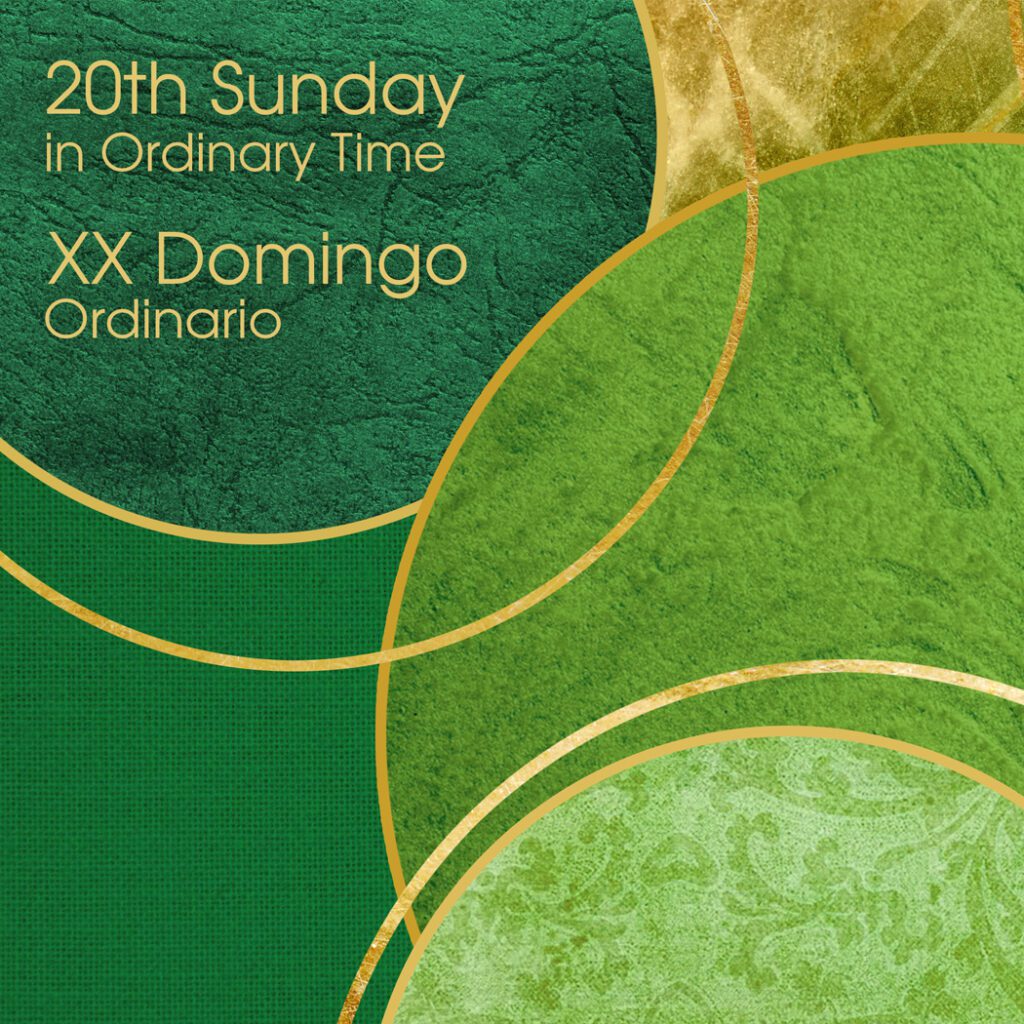 Twentieth Sunday Ordinary Time
Sunday, August 14, 2022
Reflection by: Alberto Bueno, T.O.R.
Twentieth Sunday in Ordinary Time
My dear Sisters and Brothers, Today's scriptures emphasize the cost of discipleship and faithfulness. In our first reading we see Jeremiah put in jeopardy of his life for speaking God's truth to power. In the Gospel Jesus speaks with great passion and, I'm sure, with a sense of anguish of what His Gospel will cost, to Him and to His disciples. "I have come to bring fire"! The Lord's actions will bring division. We are clear that Jesus does not desire division or separation of family and friends, but, if there is something we are clear on, it is that Jesus is a realist. Each day the Lord's passion gets closer. Each day "the baptism with which I must be baptized" becomes more real. Jesus' passion, rooted in His Passion comes through. To follow Christ means that there is a dividing line. If I follow Christ then this, by necessity, will separate me from those who do not. Particularly with those who reject and stand against the message of Love and Mercy for all, that the Lord has come to establish. The price of discipleship is the same price Jesus knows He will pay, the Cross! Where do I stand? With whom am I in league with? Do I love as Christ does? Do I care for others, especially those who are marginalized and on the peripheries, as He does? These are the questions we must ask ourselves. Jesus wants to know.
Vigésimo Domingo del Tiempo Ordinario
Mis queridos hermanos y hermanas, las escrituras del día de hoy enfatizan el precio de ser discípulo y ser fiel. En la primera lectura observamos a Jeremías en peligro por su vida por proclamar la verdad de Dios a los poderosos. Jesús en el evangelio habla apasionadamente y, seguramente, con un sentido de angustia de lo que va a costar su evangelio, para Él y a sus discípulos. "¡He venido a traer fuego!" Los hechos del Señor traerán divisiones. Está claro que Jesús no desea la división o la separación de familias y amigos, pero, si hay algo de que estamos bien claro, es que Jesús es un realista. Cada día se acerca la Pasión del Señor. Cada día "el bautismo que tengo que recibir" se hace más real. Esta proclamación apasionada de Jesús está radicada en su Pasión. Seguir a Cristo significa que hay una división. Si estoy siguiendo a Cristo entonces, por necesidad, me separo de los que no lo siguen. Particularmente de esos que rechazan y se ponen de contra al mensaje de Amor y Misericordia para todos que el Señor ha venido a establecer. El precio de ser discípulo es el mismo precio que Jesús sabe que Él va a pagar, ¡la Cruz! ¿Con quien estoy? ¿Con quien estoy aliado? ¿Amo como Cristo ama? ¿Me preocupo por los demás, especialmente por los marginados y los que se encuentran en las periferias, como lo hace Él? Estas son preguntas que debemos preguntarnos. Jesús está interesado en su respuesta.