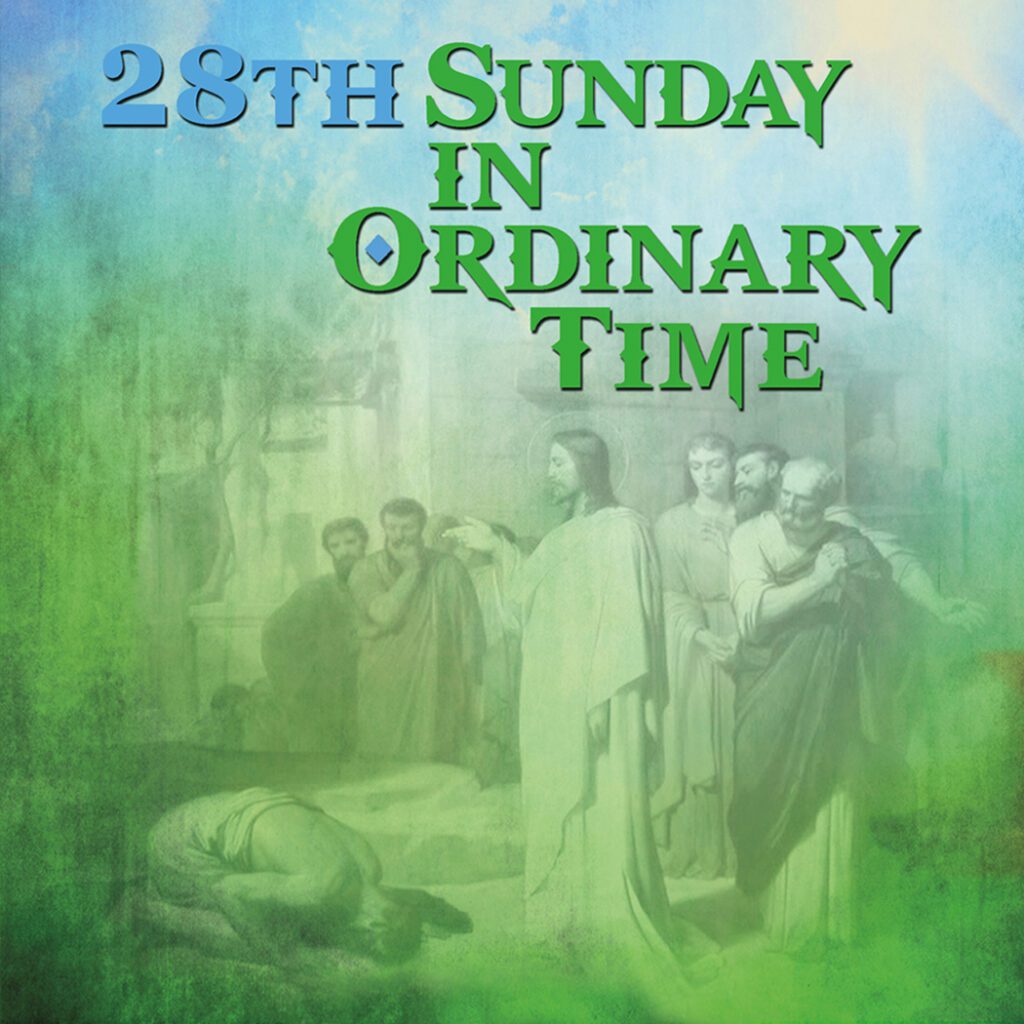 Twenty-Eighth Sunday Ordinary Time
Sunday, October 9, 2022
Reflection by: Fr. Salvator M. Stefula, T.O.R.
My sisters and brothers in Christ,
May the peace of the Lord Jesus be with you! Last week we heard from the Prophet Habakkuk and how the Babylonians were the most powerful nation in the middle east. The prophet demonstrated deep faith as he asked God for help.
Our first reading today takes place about 850 B.C. during the conflict between Israel and Syria. Naaman was a general in the Aramean army and was afflicted with leprosy. Naaman went into the territory of the enemy in search of Elisha. It is interesting to note that the prophet Elisha would not meet him and through a messenger, he was told to go and bathe in the Jordan River. He was then cured of his leprosy. He became a believer.
Our Gospel speaks about leprosy and those who were cured because of their faith in Jesus. Only one of the ten returned to give thanks for their healing. How often do we say THANK YOU JESUS for all that He has done and continues to do for us? The word Eucharist means THANKSGIVING. Every time we participate at Mass we are celebrating an act of Thanksgiving. Thank you Lord for all that you do for us and we pray that we will always be faithful.  God bless you.
Mis hermanas y hermanos en Cristo,
¡Que la paz del Señor Jesús este con ustedes! La semana pasada escuchamos al Profeta Habacuc y como los babilonios fueron la nación más poderosa en el medio oriente. El profeta demostró una fe profunda al pedir ayuda a Dios.
Nuestra primera lectura de hoy ocurre alrededor del año 850 a.c., durante el conflicto entre Israel y Siria. Naamán fue un general del ejército arameo y estaba afligido por la lepra. Naamán fue al territorio del enemigo en busca de Eliseo. Es interesante mencionar que el profeta Eliseo no quiso recibirlo, y a través de un mensajero, se le dijo que fuera a bañarse en el rio Jordán. Así fue como fue curado de su lepra. Así se convirtió en un creyente.
Nuestro Evangelio habla acerca de la lepra y de aquellos que fueron curados por su fe en Jesús. Solo uno de los diez regresó y dió gracias por su sanación. ¿Cuán a menudo decimos GRACIAS JESUS por todo lo que Él ha hecho y continúa haciendo por nosotros? La palabra Eucaristía significa DAR GRACIAS. Cada vez que participamos en la Misa, estamos celebrando el acto de Dar Gracias. Gracias Señor por todo lo que haces por nosotros y oramos para que siempre seamos fieles. Dios los bendiga.