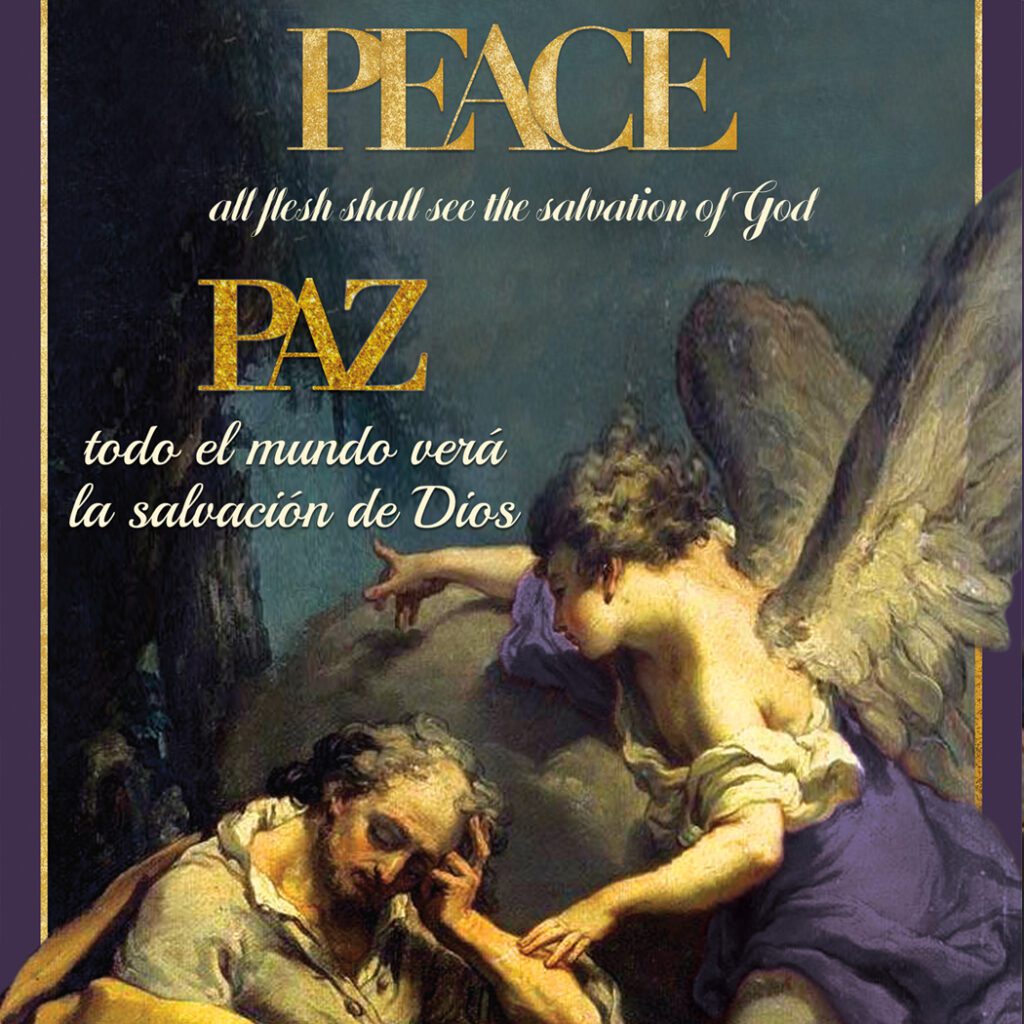 Second Sunday of Advent    
Sunday, December 4, 2022
Reflection by: Salvator M. Stefula, T.O.R.
My dear sisters and brothers in Christ,
May the peace of the Lord be with you. It is hard to believe  that we are now in the season of Advent and preparing to celebrate the birth of Jesus. For several weeks before Advent, our scriptures were reminding us about the end time. The time when we will no longer be on this earth but reminding us to continue living a relationship with the Lord so that one day,  we will be with Him in heaven. The word Advent comes from the Latin word "Advenio" which means "to come." We will hear words like WAITING and  PREPARING. We are waiting and preparing ourselves for the celebration of the birth of Christ on Christmas but it is also the time of waiting and preparing for the Second Coming of our Lord at the end time.
In our first reading from the prophet Isaiah, we know that he lived during a very difficult time in Israel. The Assyrians took over the area north of Jerusalem, known as the northern kingdom. Jerusalem lived in fear that they would be next. He condemned the Assyrians and also the kings of Israel who led the people away from God and he condemned the people who followed them. In this reading, Isaiah is giving hope to those who have remained faithful to God. He promises that God will send them a leader who will lead them to justice and peace.
The message of John the Baptist in today's gospel reminds us of the need to "repent" to continue seeing what area needs to be changed. John uses the word REPENT or REPENTENCE three times in the gospel. To repent does not mean that we are great sinners but it could simply mean that our behavior needs to change or our attitude. It could mean that we are not doing anything really bad but we are not doing anything really good. It is not enough to avoid evil; we have to do good.
Let us take advantage of the Sacrament of Reconciliation during this Advent to prepare ourselves spiritually for the celebration of the birth of Christ. God bless you.
Mis queridos hermanas y hermanos en Cristo,
Que la paz del Señor esté con ustedes. Es difícil de creer que estamos en la época de Adviento y preparándonos para celebrar el nacimiento de Jesús. Durante varias semanas antes del Adviento, nuestras escrituras nos recordaban el final de los tiempos. El tiempo en que ya no estaremos en esta tierra, pero recordándonos que debemos seguir viviendo una relación con el Señor para que un día estemos con Él en el cielo.  La palabra Adviento viene del latín "Advenio" que significa "venir". Oiremos palabras como ESPERAR y PREPARARSE. Estamos esperando y preparándonos para la celebración del nacimiento de Cristo en Navidad, pero también es el tiempo de esperar y preparar la Segunda Venida de nuestro Señor al final de los tiempos.
En nuestra primera lectura del profeta Isaías, sabemos que vivió durante una época muy difícil en Israel. Los asirios se apoderaron de la zona al norte de Jerusalén, conocida como el reino del norte. Jerusalén vivía con el temor de que serían los próximos. Isaías condenó a los asirios y también a los reyes de Israel que alejaron al pueblo de Dios y condenó al pueblo que los siguió. En esta lectura, Isaías da esperanza a los que han permanecido fieles a Dios. Les promete que Dios les enviará un líder que los conducirá a la justicia y la paz.
En el evangelio de hoy, el mensaje de Juan el Bautista nos recuerda la necesidad de "arrepentirse" para seguir viendo qué área necesita ser cambiada. Juan utiliza la palabra ARREPENTIMIENTO o REPENTIMIENTO tres veces en el evangelio. Arrepentirse no significa que somos grandes pecadores, sino que podría significar simplemente que nuestro comportamiento o nuestra actitud necesita cambiar. Puede significar que no estamos haciendo nada realmente malo, pero no estamos haciendo nada realmente bueno. No basta con evitar el mal, hay que hacer el bien.
Aprovechemos el Sacramento de la Reconciliación durante este Adviento para prepararnos espiritualmente a la celebración del nacimiento de Cristo. Que Dios los bendiga.