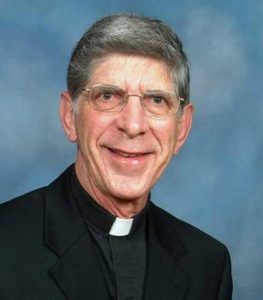 Welcome to St. Patrick Parish Website! Thank you for visiting us. Whether you are new to the Tampa area, a parishioner, returning to the Catholic Church or starting a journey to the Catholic Church, you have come to a good place. Your presence is lovingly welcomed and appreciated within our global Catholic community. Within these pages you will find information about our church, our ministries, and our faith formation opportunities. As you browse through this site, feel free to read our parish bulletins, mark your calendars with the latest parish events, or request information for sacramental preparation.  Please feel welcome to come by for a visit and join us for Mass or for any of our many parish events. If you have any questions, suggestions or would like more information about our parish family, please send us an email or give us a call at 813-839-5337. I look forward to meeting you personally and getting to know you better. Once again, Welcome!

–Fr. Jim Angert, T.O.R., Pastor
Please Join us for Mass this Weekend
Saturday Vigil Mass: 5:00 pm , Sunday Masses: 7:30 am, 9:00 am, 11:00 am, 6:00 pm
Click Here to Learn more about Joining our Parish Community
Our mission is to be growing disciples who grow other disciples
by loving God and one another.
Thus, as the Catholic Community of St. Patrick, we respond to
the mission the Risen Jesus gave in Matthew 28:16-20
when he said: "Go and make disciples of all nations."
This is the greatest mission on earth and we joyfully respond
trusting Our Lord when he also said:
"Know that I am with you always."