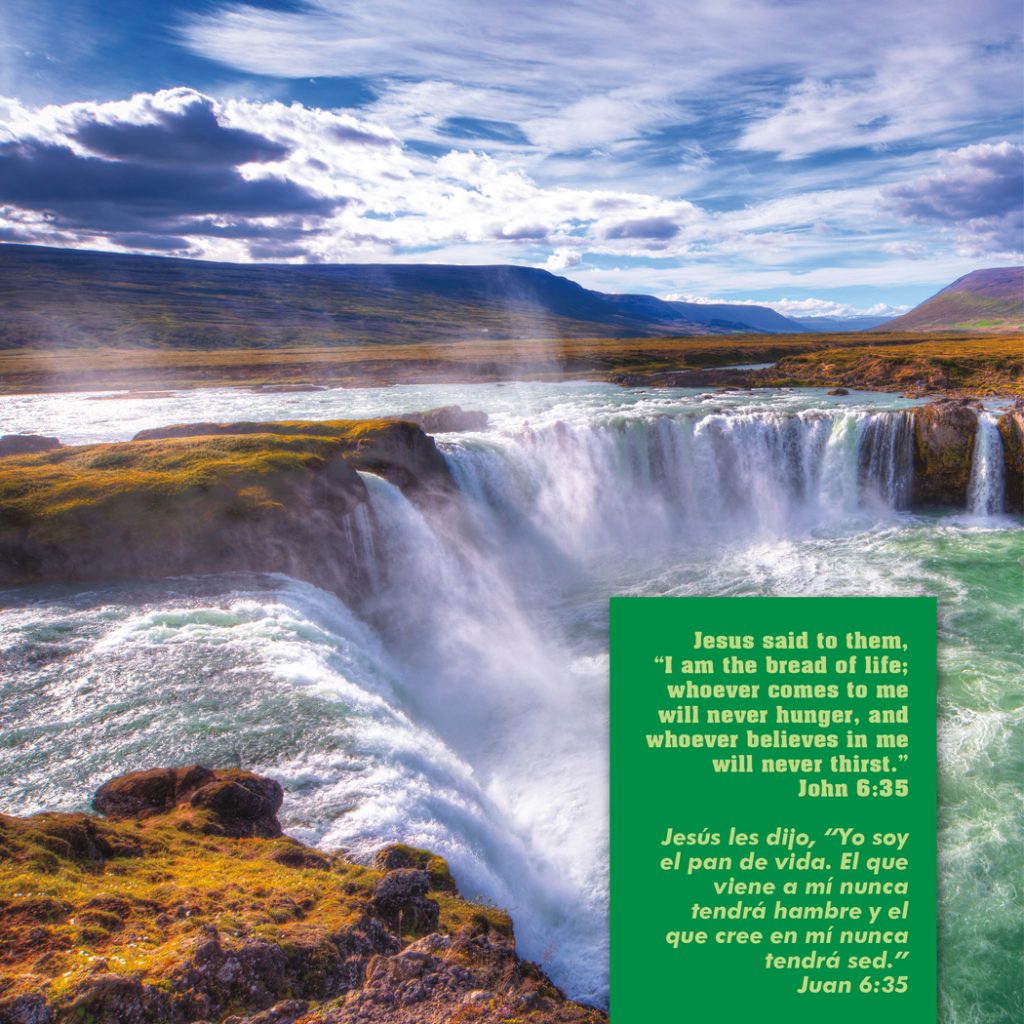 Eighteenth Sunday in Ordinary Time
Sunday, August 1, 2021
Reflection by: Fr. Alberto Bueno, T.O.R.
My dear brothers and sisters in Christ,
Last Sunday we began listening to the sixth chapter of the Gospel of Saint John, with the account of the feeding of the five thousand. In today's Gospel passage, Jesus enters into dialogue with those who sought him out after that experience. Pope Francis reflected on this Gospel and taught us: (Jesus), the true "bread of life" (v. 35), wants to satisfy not just the bodies but also the souls, giving the spiritual food that can satisfy profound hunger. This is why he invites the crowd to obtain not the food, which perishes, but that which endures for eternal life (cf. v. 27). It is the food that Jesus gives to us every day: his Word, his Body, his Blood. The crowd listens to the Lord's invitation, but does not understand its meaning — as often happens to us — and asks him: "What must we do, to be doing the works of God?" (v. 28). Those who are listening to Jesus think that he is asking them to observe the precepts in order to obtain more miracles like the multiplication of the loaves. This is a common temptation; to reduce religion to only the practice of its laws, projecting onto our relationship with God the image of the relationship between servants and their master: servants must carry out the tasks that the master assigns to them in order to enjoy his benevolence. We all know this. Therefore, the crowd wants to know from Jesus which actions it must perform in order to please God. But Jesus' reply is unexpected: "This is the work of God, that you believe in him whom he has sent" (v. 29). Today, these words are also addressed to us: God's work does not consist so much in "doing" things, but in "believing" in Him whom He sent. This means that faith in Jesus allows us to carry out God's works. If we allow ourselves to be involved in this loving and trusting relationship with Jesus, we will be able to perform good works that exude the fragrance of the Gospel for the good and needs of our brothers and sisters.
The Lord invites us not to forget that, if it is necessary to worry about bread, it is even more important to nurture our relationship with Him, to strengthen our faith in Him, who is the "bread of life" who came to satisfy our hunger for truth, our hunger for justice and our hunger for love. (Angelus, August 5, 2018)
Decimoctavo Domingo del Tiempo Ordinario
Mis queridos hermanos y hermanas en Cristo,
El domingo pasado comenzamos a escuchar el capítulo seis del evangelio de san Juan, con el recuento de Jesús dándole de comer a los cinco mil. En el evangelio de hoy, Jesús comienza un diálogo con los que fueron a buscarlo después de haber comido de esos panes. El Papa Francisco reflexionó sobre este evangelio y nos ha enseñado: (Jesús), verdadero «pan de la vida» (v. 35), quiere saciar no solamente los cuerpos sino también las almas, dando el alimento espiritual que puede satisfacer el hambre profunda. Por esto invita a la multitud a procurarse no la comida que no dura, sino esa que permanece para la vida eterna (cf. v. 27). Se trata de un alimento que Jesús nos dona cada día: su Palabra, su Cuerpo, su Sangre. La multitud escucha la invitación del Señor, pero no comprende el sentido —como nos sucede muchas veces también a nosotros— y le preguntan: «¿qué hemos de hacer para llevar a cabo las obras de Dios?» (v. 28). Los que escuchan a Jesús piensan que Él les pide   cumplir los preceptos para obtener otros milagros    como ese de la multiplicación de los panes. Es una tentación común, esta, de reducir la religión solo a la práctica de las leyes, proyectando sobre nuestra relación con Dios la imagen de la relación entre los siervos y su amo: los siervos deben cumplir las tareas que el amo les ha asignado, para tener su benevolencia. Esto lo sabemos todos. Por eso la multitud quiere saber de Jesús qué acciones debe hacer para contentar a Dios. Pero Jesús da una respuesta inesperada: «La obra de Dios es que creáis en quien él ha enviado» (v. 29). Estas palabras están dirigidas, hoy, también a nosotros: la obra de Dios no consiste tanto en el «hacer» cosas, sino en el «creer» en Aquel que Él ha mandado. Esto significa que la fe en Jesús nos permite cumplir las obras de Dios. Si nos dejamos implicar en esta relación de amor y de confianza con Jesús, seremos capaces de realizar buenas obras que son la fragancia del Evangelio, por el bien y las necesidades de los hermanos.
El Señor nos invita a no olvidar que, si es necesario preocuparse por el pan, todavía más importante es cultivar la relación con Él, reforzar nuestra fe en Él que es el «pan de la vida», venido para saciar nuestra hambre de verdad, nuestra hambre de justicia, nuestra hambre de amor. (Ángelus, agosto 5, 2018)